türkçe
links to original Turkish article
(HaberTürk Newspaper, 22 August 2015)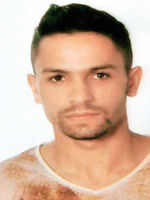 Justice a mirage for Ergör, with no friends in high places.
On 20 July 2013, in Lüleburgaz district of Tekirdağ province,
police got a tip about two people acting suspiciously in the
Kocasinan neighborhood so the police took the two suspects
into custody. Neither of the two had ID cards but one gave his
name as Turan A. (24) and the other one, whose real name is
Mehmet Ç., gave police the name of a distant relative, Erdal
Ergör (24).
Four witnesses identified the suspects at the police station
and it was found that someone had tried to steal a motorcycle
near where the two were apprehended. A case was opened in
Lüleburgaz court related to the two suspects for 'damaging
property, breaking and entering and robbery."
Declared legally blind in this case.
The real Erdal Ergör, who lives in Çorlu, was shocked to learn
that he was the subject of a criminal case but he came to the
Çorlu courthouse and gave a statement. Ergör said that he had
never gone to Lüleburgaz and he wanted to meet face-to-face
with the witnesses who had 'identified' him.
At the conclusion of the trial, Ergör was sentenced to 3 years
and twenty days in jail (!) and because he showed no regret (!!)
the sentence was not postponed. The decision went to Ergör's
MERNİS (Central Civil Registration System) address, where
he is registered as living, but he does not reside there.
By the time Ergör learned about the decision, the time for him
to appeal it had passed. Consequently, Ergör was sent to Çorlu
prison on 25 June 2015, two weeks before his scheduled wedding
(!!!). Meanwhile, Ergör's lawyer Kaan Aytuğ found Mehmet Ç.
who was brought to the Lüleburgaz public prosecutor. Mehmet Ç.
said that on the day in question he was scared and gave Ergör's
name instead of his own.
Mehmet Ç. can't even get himself arrested.
Mehmet Ç. signed a petition declaring that he was the person
who had been at the scene of the incident. Ergör then asked for
a re-trial but his lawyer Aytuğ lamented that the judge had not
even compared the photos of his client and Mehmet Ç. Aytuğ
added that "we applied for a new trial but because of the court's
workload an innocent person may not be released until after the
sentence is completed."
In the event that there is no word from the court, Ergör will not
be released prior to 10 July 2018 (!!!!).
The scene of the crime.