türkçe
links to original Turkish article
(Hürriyet Newspaper, 16 November 2015)
After boyfriend spat, Tuğba hit the gas...and a few other things.
Tuğba G. (26), who runs a beauty salon in Istanbul, got into her
Jeep after an argument with her boyfriend and left the city. The
boyfriend, thinking that Tuğba might do harm to herself, notified
the police.
Based on the likelihood that Tuğba would head for her hometown
of Ordu, police alerted the provinces along the route to her car's
make, model and license plate number. Tuğba evaded the police in
Samsun and when she reached Altınordu, within the provincial
capital Ordu, she tried to flee from a police checkpoint.
First, Tuğba jumped the divider and headed in the opposite
direction, against oncoming traffic. Getting herself back into the
correct lane, Tuğba continued to flee but hit a tree and the wall
of a shopping center on Atatürk Boulevard, smashing into a
few cars, as well. As the injured Tuğba was taken to the state
hospital for treatment, traffic on the Karadeniz (Black Sea) coast
road was shut down. Once the tree and the Jeep were removed
the road was opened again. An investigation is continuing.
------------------------------------------------------------------------
türkçe
links to original Turkish article
(HaberTürk Newspaper, 15 November 2015)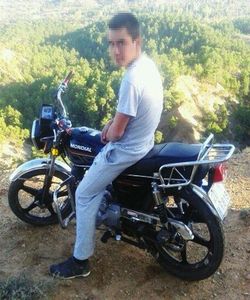 Party-hearty O.G. has that baby-face killer look
.
Muhammet Kurt (69) worked in France for many years and then
retired to his hometown in Acıpayam district in Denizli province.
After three days without hearing from Kurt (!), his wife Hatice
alerted the police the day before yesterday.
Police determined that Kurt had been taken away in a car and
that the last person he spoke with on his phone was O. G. (17).
O.G. and his friend H.S. (14) were taken into custody but then
released. Subsequently, though, O.G. was arrested when he
confessed his guilt.
Three days away from home and his wife finally misses him.
O.G. had summoned Kurt to the Akdere location ostensibly
to discuss the sale of an animal. There, he shot Kurt with a
hunting rifle, took Kurt's 5,000 TL (about 1,750 USD) and
put the body in the trunk of Kurt's car. After that, O.G. and H.S.
put different license plates on the car and drove to Fethiye,
partying there until dawn. They then returned to the Akdere
location, where they dumped Kurt's body, covered it with straw
and abandoned the car in the woods.
Acıpayam district is about 50 kilometers south of Denizli city.