türkçe
links to original Turkish article
(Sözcü Newspaper 31 October 2015)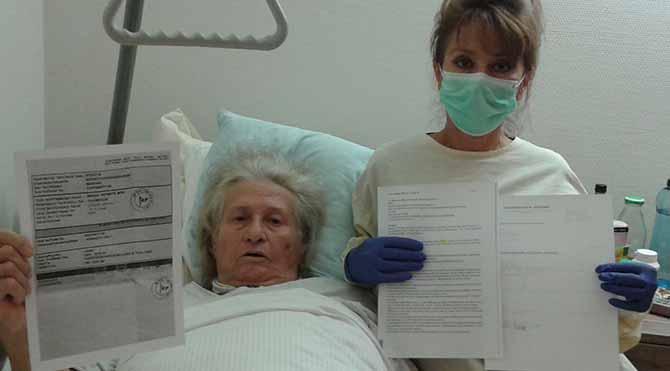 Accepting condolence bouquets of forget-me-nots.
The Turkish Airlines (THY) flight on 7 October 2015 from
Istanbul to Stuttgart was rocked by an incredible scandal. Two
passengers, one from Istanbul and the other from Ankara, who
were both seriously ill, were forgotten on the plane when it landed.
The pilot, crew and other passengers left without noticing that the
two patients were still there.
Nermin Başak (80), who has a broken hip, and the other ill
person, who was injured in a car accident, along with two of
their relatives, were abandoned on the plane until midnight.
Only after the accident victim beat on the plane's walls and
Başak screamed did anyone come to help. Finally the German
Red Cross rescued the two patients, although Başak had a
heart attack while waiting. The two patients and their relatives
are preparing lawsuits against THY.
------------------------------------------------------------------------
turkçe
links to original Turkish article
(HaberTürk Newspaper, 3 November 2015)
In-flight entertainment of the worst kind.
The THY flight from Porto to Istanbul had to make an emergency
landing in Rome because of a 'drunken fans crisis'. Members of
the famous Super Dragoes supporters of the Porto team of Portugal,
were aboard the flight to make a connection in Istanbul for Israel,
where Porto would play Maccabi in a Champions League game in
Tel Aviv.
Four fans, who were already drunk when they boarded the flight,
continued their unruly behavior on the plane, despite warnings.
Considering this to be a threat to the plane's safety, the captain
decided to land at Rome's Fiumicino Airport. Italian police took
the four rowdy Porto fans into custody. The plane then resumed
its flight to Istanbul.