türkçe
links to original Turkish article
(HaberTürk Newspaper, 9 October 2015)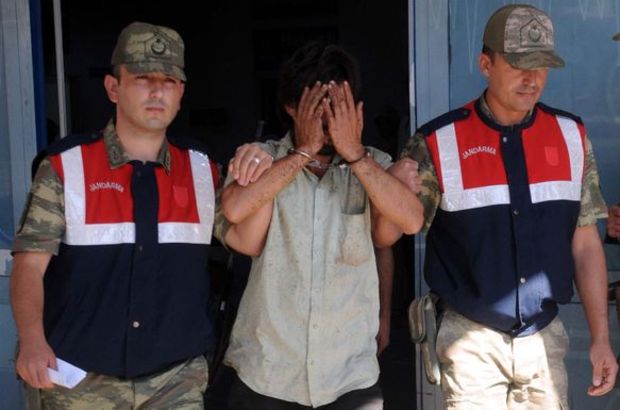 Sunlight too much after 18 months in a cave.
Last year, Musa M. escaped from the Eskişehir prison, where he
was serving a sentence of 3 years and 4 months for theft, looting
and resisting a state official. Gendarmerie teams in Dulkadiroğlu
district of Kahramanmaraş province learned that the escapee was
hiding in the mountainous region of the district.
By making contact with the local shepherds, police determined that
Musa M. was holed-up in a cave in the Engizek Mountains. Together
with a 40-man group of village guards, police captured Musa M. in
his cave hideaway.
Musa M. had been living in primitive conditions in the cave for 18
months, surviving on mushrooms and grapes. He was planning to
leave the country by a sea route (! see map).
Dulkadiroğlu district is on the outskirts of the K.Maraş capital.
----------------------------------------------------------------------------
türkçe
links to original Turkish article
(HaberTürk Newspaper, 2o December 2015)
Horses left to wonder what's wrong with these humans.
Four years ago in Manisa, H.A. (48) was sentenced to 12 years in
prison for "sexual exploitation of underage children" but he managed
to disappear. In a scene straight out of an action movie, he was
captured.
Police noticed H.A. at the helm of his horse & buggy in front of
Ruh Sağlığı Illnesses Hospital in the Şehitler neighborhood of
Şehzadeler district and gave chase. The police pursuit of H.A.
continued until Mehmetçik Avenue, where a policeman got out of
his car and hopped onto the buggy.
H.A. had to give up the reins, jumped off the buggy and began to
run away. Police were able to nab H.A. as he tried to scale the
wire fence at the rail line. He was booked and sent to prison. It
turned out that H.A. has been driving his horse & buggy in Manisa
since he was convicted of child sexual harassment four years ago.
Şehzade district is in the provincial capital, Manisa city.