türkçe
links to original Turkish article
(Hürriyet Newspaper, 5 December 2015)
Pitbull cool and collected, while owner froths at the mouth.
Berk Ş.(17), who lives in the Huzurevleri neighborhood of Çukurova
district, Adana, was walking with his friends back from school toward
a bus stop on Turgut Özel Boulevard. There he encountered A.A. (17)
who was walking his pitbull dog.
Allegedly, Berk Ş. said to A.A. "what kind of a pitbull is this? She's so
calm, not vicious at all." and began to pet the animal on its head. A.A.
then had the dog attack Berk Ş., who let a kick fly toward the animal to
defend himself. A.A. took umbrage at this, saying that the dog was
pregnant, and told Berk Ş. "I will see you later."
About ten minutes later A.A. came running back and kicked Berk Ş. to
the ground. A.A. then began flailing away at Berk Ş. with a meat cleaver.
Berk Ş. covered his head with his arms but suffered serious gashes to his
arms. His father, a retired soldier, filed a complaint against A.A. who
was charged with attempted murder but released pending trial.
--------------------------------------------------------------------------------------
türkçe
links to original Turkish article
(HaberTürk Newspaper, 5 December 2015)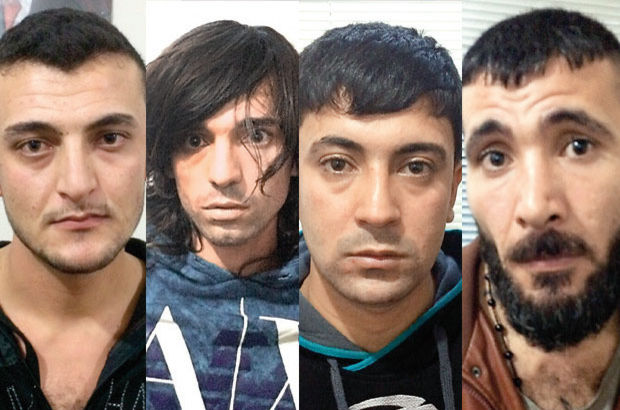 GQ-ready they're not.
A vicious 5-member gang that targetted Syrians in Istanbul has been
broken up. The masked gang members stormed the house where Syrians
Muhammed Cebeli and Abdulrahim Hatip were staying in Bağcılar and
tortured them with guns, knives and electroshock. Cebeli, who tried to
fend them off, had his stomach cut open from end to end.
The suspects took valuables from the home and then headed for another
home in the Muratpaşa neighborhood of Bayrampaşa, where 11 Syrians
were living. This time the gang tortured a person by scalping a portion
of his head. The gang then took 3,000 TL, 8 cellphones, a backpack and
two passports with them as they fled.
One of the victims told police that he recognized one of the gang members'
voices from a village in Syria. Based on this, the police found the gang's
house in Avcılar and arrested the stomach-ripping, head scalping gang
members Safuhan Salih, Mustafa Hasan, Ahmet Hanan, Enes M. and
Abdurrahman Bilal.