türkçe
links to original Turkish article
(Hürriyet Newspaper, 8 December 2015)
Even Tony the Tiger's blushing.
Japanese engineer İoku Numata (51) came to Istanbul on 7 January
2014 to work on the Marmaray project (trans-Bosphorus subway).
He began living in Kadıköy district and on 16 February he went to
the market to buy wine. While in the market, Numata used a camera
concealed in a cigarette pack to take pictures under the skirt of C.Ç.Y.
(26) who was shopping at the time.
Explanation inspired by the master...
The security guard in the market noticed Numata's activity and intervened.
In his statement to the police, Numata explained that "I took the pictures
for fun. I didn't know it was wrong. I won't do it again." Numata is to
be tried for sexual harassment but the court has not been able to reach
him for 17 months. Consequently, assistance has been requested from
Interpol and if Numata's address in Japan is determined an international
arrangement will be set up to obtain Numata's statement to the court.
Kadıköy district of Istanbul (and the home of TNT!)
------------------------------------------------------------------------------------
türkçe
links to original Turkish article
(HaberTürk Newspaper, 8 December 2015)
Just picking some of these up for the little woman...
In Istanbul, a policeman who took a bribe of 130 TL, along with
underwear and bikinis, will be put on trial. The case against the
15-year police veteran developed as follows: Furkan T., who works
at a textile firm in Laleli, picked up 250 bikinis and thongs from his
boss's house and put them in the trunk of his car.
En route to Laleli, however, Furkan T. was stopped during a traffic
check and officer İbrahim Ö. (42) said to him "your insurance is a
year out of date. I'm giving you a fine of 1,600 TL." Furkan T.
explained that the car didn't belong to him so İbrahim Ö said "then
give me a bit of cash."
Furkan T. handed over 130 TL for the three officers on duty. But
when he opened the trunk İbrahim Ö. saw the bikinis and thongs
and took 50-each of them. Later, Furkan T. told his boss and the
police about the incident. A police team went to the scene and found
the bikinis and the underwear on the seat of the police car and
İbrahim Ö was found to have 1,130 TL on his person.
In his own defense, İbrahim Ö stated that "I gave his documents to
my fellow officer and we were going to write a ticket. In the confusion
he took his license and left. I didn't take any money or things. I got
the underwear as a present for my wife. We just made up." A sentence
of 11 years has been requested for İbrahim Ö., who will face a judge
in the coming days.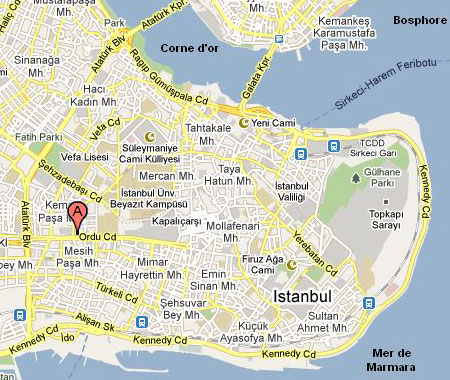 The Laleli area of Istanbul (A).
-----------------------------------------------------------------------------------
türkçe
links to original Turkish article
(Hürriyet Newspaper, 8 December 2015)
Not in my class you don't!
The rector of Karabük University, Dr. Refik Polat, has forbidden
Assistant Professor E.L. from teaching classes, as of yesterday.
The reason is that when a girl student, İ. K., succeeded in completing
a difficult assignment she exclaimed "I did it!" In response, Professor
E.L. warned that "you won't scream out the cries you moan in bed here!"
After the class, İ.K. and 8 other girl students went to Professor E.L.'s
office and complained. University officials tried to make peace between
the girls and E.L. but İ.K. insisted on pursuing her complaint, resulting
in the ban placed on E.L.
Karabük province