türkçe
links to original Turkish article
(Hürriyet Newspaper, 14 December 2015)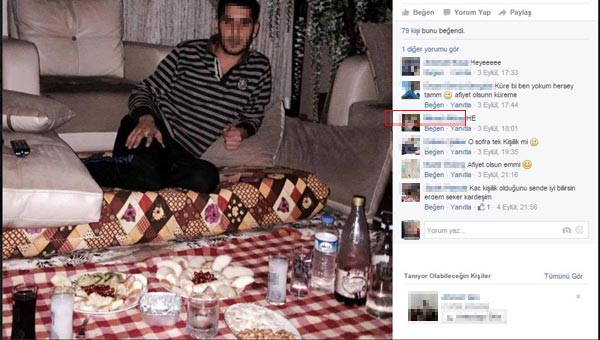 Sadık Pamuk ('pamuk' means 'cotton') quenching thirst, sans ayran.
The suspects who disrupted the 'Kebap and Şalgam (turnip-carrot
juice) Festival', which thousands of people attended in Adana on
Saturday, with shotgun fire because rakı and whisky were being
consumed, have been brought before a court and were then released
under 'judicial control'.
temperance crusaders
MUST-SEE TV
Suspects Cumali Pamuk (32), Ömer Pamuk (30), Sadık Pamuk (24),
Mehmet Pamuk (35), Hakan Yarımtaş (25) and Aykut Yarımtaş
(22) had screamed during their tirade on Saturday "a festival is held
while every day our soldiers and police are being martyred?! Our
national drink is ayran!"
However, Sadık Pamuk and Aykut Yarımtaş contradicted this rhetoric
with their postings on social media. Five days before the festival,
Sadık Pamuk shared whisky and chocolate on his page, noting that
"with all these sons of whores running around, will we go to hell for
drinking rakı?!"
Under Aykut Yarımtaş's cover photograph on his page the words
'Dev-Sol' (Revolutionary Left) drew attention.
Adana province