turkce
links to original Turkish article
(Hurriyet Newspaper, 25 July 2014)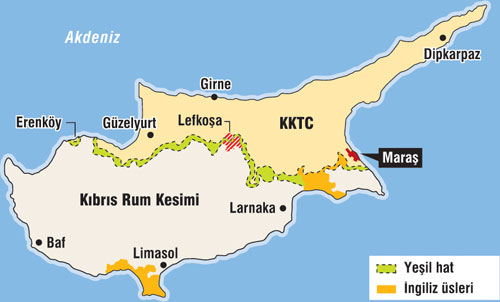 Now they'll have to get used to it, like the rest of us.
A vehicle carrying 3 million Turkish Lira (TL) from
the Cooperative Central Bank for the salaries of
officials and retirees in the Turkish Republic of Turkish
Cyprus (KKTC) was stopped and robbed by two
masked gunmen. The heist occurred on the Lefkosa-
Guzelyurt highway and was the first time such a
robbery has happened in the history of the KKTC.
The robbers abandoned the vehicle they hi-jacked in
the border region with Greek Cyprus and disappeared
with the 3 million TL. It is assumed that the thieves
escaped to Greek Cyprus with the loot.
The robbery happened at the intersection near Mevlevi
village on the Lefkose-Guzelyurt highway. A dark blue
Ford coming from Guzelyurt cut off the Cooperative
Central Bank vehicle coming from the opposite direction.
The two masked gunman emerged from the Ford - the
license plates were covered - and subdued the driver
and another official.
The robbers abandoned both their own Ford and the
bank vehicle near the Bostanci border gate with Greek
Cyprus, near Guzelyurt, and fled. The security failure
that allowed for a money-transport vehicle to be without
armor and security escort is under review.