turkce
links to related Turkish article
(Hurriyet Newspaper, 3 July 2014)
ISIL's navy makes landfall at Bodrum (?)
Those who saw a 'black flag' with Arabic writing on it
flying over a houseboat in Torba Koyu, Bodrum, thought
it was ISIS (Islamic State of Iraq and Syria) and called
police and the port authority. The houseboat's owner,
fisherman Oktay Yildiz explained that "I just made a place
for myself to stay. I put up the flag which says 'Allah is
one and Muhammed is his prophet. Obey him'. Don't
think there was any bad intention involved."
"What?"
======================================
turkce
links to original Turkish article
(Sabah Newspaper, 3 July 2014)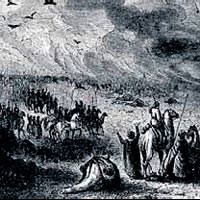 19th Century engraving of the lost army of II Cambyses
Researchers at Leiden University in Holland have solved
the mystery of the disappearance of the Persian army in
524 BC, thanks to an analysis of newly found hieroglyphs.
The 50,000-strong army that Iranian Emperor II Cambyses
sent to Egypt was believed to have been lost to a sand
storm. However, the Dutch researchers have found that
the Persians were defeated and massacred to the last man
by the army of Egyptian ruler III Petubastis.
//for more info on Cambyses and his lost army see the
following link:
http://en.wikipedia.org/wiki/Cambyses_II