turkce
links to original Turkish article
(Sabah Newspaper, 20 October 2014)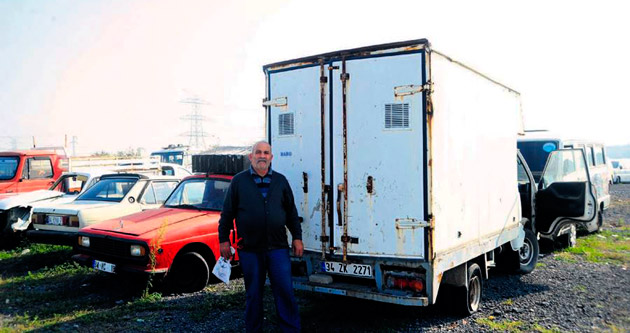 Everyone dreads long-term parking fees but this is the ultimate.
Kerem Aydin's truck with plate number 34 ZK 2271 was stolen in
Gebze district of Kocaeli province in 2007. Seven years later Aydin
got a phone call from police telling him that his truck had been found.
Aydin was summoned to the Istanbul Traffic Bureau's Kemerburgaz
parking facility only to learn that his truck had been sitting there for
those 7 years without anyone letting him know. Aydin was hit with
a parking bill of 24,500TL ($12,000) for a vehicle worth 10,000 TL
so he decided to file a complaint against the officials who should
have, but didn't, inform him about his truck's status.
Aydin couldn't believe his eyes when he saw his truck - all sides of
the truck were rusted, making it unuseable. In addition, the tires had
worn away. He was even more amazed when he learned from the
parking facility employees and the police that his truck had been
found a week after it had been stolen and towed to Kemerburgaz,
Aydin noted that there were documents in the truck identifying him
as the owner and the plates were registered to him, as well. He told
Sabah "my vehicle is parked there for 7 years and for some reason
they don't tell me. Then 7 years later they call me and want 24,5000 TL
parking money. It's clear that my vehicle was kept there for ulterior
motives." The public prosecutor has begun an investigation.
Find Kemerburgaz and your car too!