turkce
links to original Turkish article
(Sabah Newspaper,2 October 2014)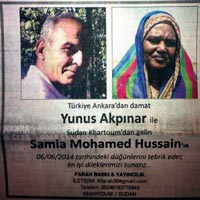 Genuine marital bliss or practical joke of the year?
The day before yesterday the Sudan-based firm Farah Publications
put the following announcement in a newspaper in Turkey:
"We congratulate Ankara bridegroom Yunus Akpinar. and his bride
Khartoum's Samia Mohame Hussain.on the occasion of their
wedding held on 6 June 2014 and offer our best wishes."
However, it turns out that the notice was not just an innocent
wedding congratulations message. Businessman Akpinar
asserted that "I sell printing machines to Sudan and I had a
commercial dispute with this firm. In order to get revenge
they made up this thing about me getting married there. I have
a wife and kids. The firm's head is an 84 year-old with some
screws loose. His aim is to upset my familial peace and harmony."
As for Farah Publications officials, they claimed that Akpinar
was married to Samia in a religious ceremony and that he paid a
$5,000 bride price, adding that "the wedding ceremony appeared
in newspapers in Sudan. We attended, as well. The Turkish
Embassy was aware of it. We work with Samia and she's waiting
for the papers that Yunus will bring from Turkey regarding the
wedding."
Not too far for a commuter marriage.