turkce
links to original Turkish article
(Sabah Newspaper, 9 October 2014)
Tilki (which means 'fox') - too sly for his own good?
Two bodies were found in garden houses belonging to
Yucel Bozkurt at Yukari Kayhan in Yassicali hamlet of
Adana's Kozan district. Someone who saw a person lying
motionless inside the house in the morning informed the
Gendarmerie. The dead person, who was poisoned, was
determined to be the garden watchman Serkan Tilki (28).
When garden owner Yucel Bozkurt told officials that his
son had been missing for two days a search of the garden
was conducted but no trace was found. The Gendarmerie
team then broke the windows of another garden house
and entered, finding the body of Volkan Bozkurt (34),
whose arms and legs had been bound. Bozkurt had been
shot in the head and chest with a hunting rifle.
At the spot where Tilki was found dead there was a note
that read "they made me do this. I can't live with this evil
deed. Please forgive me, I had to do it." Officials are
considering the possibility that Tilki killed Bozkurt and
then committed suicide.
Kozan district is in central Adana province.
======================================
turkce
links to original Turkish article
(Sabah Newspaper, 9 October 2014)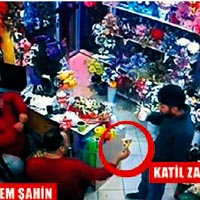 Pizza as a last meal...
In Istanbul, Adem Sahin had his throat cut by his
five partners and died. Details of the murder have
come out thanks to video records, in which Sahin
is seen giving pizza and a drink to the killer, a relative.
The body of Adem Sahin (39), a florist, was found on
wednesday evening, 1 October, at about 9 PM in the
trunk of an abandoned car in Buyukcekmece, Istanbul.
Investigations revealed that Sahin had been beaten
before his throat was cut. There were knife cuts on his
arms and legs, as well.
Police determined that Sahin was killed by five
business partners because of a money dispute. The
partners did not get money back from Sahin and
decided to kill him. The video showed that prior to
the murder, Sahin had eaten pizza with one of the
partners, I.G., before he was taken to a nearby field,
beaten and stabbed.
Citizens who noticed blood on the abandoned car
alerted police, who found Sahin's body. I.G. (24), a
distant relative of Sahin, and the other 4 suspects
were arrested two days later. the knife used in the
murder was retrieved from the water along the shore
at Buyukcekmece.
After murdering Sahin, the suspects threatened his
wife in an effort to obtain two apartments Sahin
owned in Istanbul. Four of the suspects were
incarcerated.
Buyukcekmece district, Istanbul