turkce
links to original Turkish article
(Sabah Newspaper, 7 October 2014)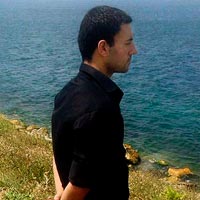 'Ali' convicted, Bayram in jail - can court fix the snafu?
Bayram Sarisoy, who lives in Istanbul, escaped from prison
after having been convicted of narcotics sales. Bayram was
subsequently involved in a mugging incident along with five
other people the year before last in Kucukcekmece, Istanbul.
In order to hide the fact that he was a prison escapee and to
forestall the loss of the 3 years 6 months he had already served
in prison, Bayram gave police the identity information of his
brother Ali, who is closest in age to Bayram among 5 brothers.
Bayram was tried, using Ali's identity, for the crime of 'armed
robbery against more than one person' and was sentenced to
55 years in prison, based on 11 years for each of the five
people he robbed. He went back to prison and did not appeal
the verdict so the sentence stood.
So that the fact that he had used Ali's identity would not
come out, Bayram did not want his family to visit him in
prison and he would not accept any family visitors. Bayram's
plan, however, fell apart when Ali learned about it. Ali,
a worker in a textile workshop, was required to be registered
legally and when he went to the courthouse to do so he was
in for a shock.
Ali now lives with the fear that he may have to go to prison
and so he immediately made an application to the Bakirkoy,
Istanbul, court that issued the sentence against his identity.
His lawyer, Mahmut Ceran, stated that "I called the prison,
gave Ali's identity card number and asked whether there was
an inmate by that name there. I was told that there was and
yet Ali was sitting across from me at the time. Because of
all this Ali's life is in turmoil, which is why he has appealed
to the court for relief. He has asked to be acquitted and the
trial redone."