turkce
links to original Turkish article
(Sabah Newspaper, 6 October 2014)
'Sacrificial lamb' Heval, victim of flying goat.
In Diyarbakir, details about the 'accident' in which a 13 year-
old boy was killed when a goat jumped on him from a 6th
floor rooftop, have been clarified. Nurettin A., who lives on
the top floor of the building, purchased a goat to sacrifice on
the first day of Kurban Bayrami (Feast of Sacrifice). The
goat was locked in a cage on the roof and when Nurettin A.
opened the cage to butcher the goat it leapt off the roof.
At this time, Heval Yildirim, a 13 year-old boy who lives in
the same building, was playing below. The goat landed on
Yildirim, killing him. Fikriye Yildirim., who lost the youngest
of her seven children in the incident, lamented that "instead of
the goat being sacrificed my son was. I won't let the matter
drop."
Nurettin A. left the building together with his family. Charges
against Nurettin A. for 'negligent homicide' could bring him
a 6-year jail sentence.
Killer died at the scene, as well.
===========================================
turkce
links to original Turkish article
(Sozcu Newspaper, 6 October 2014)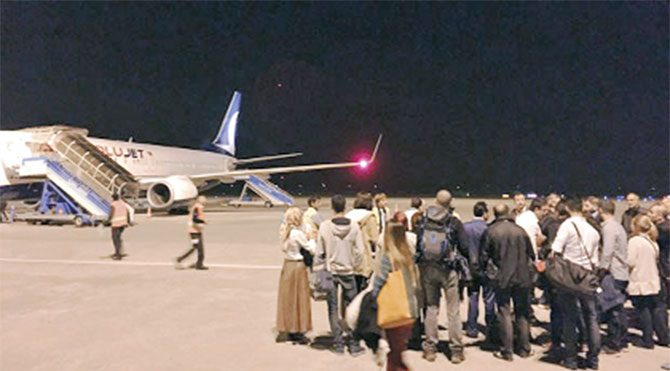 Next time, skip the fuss, take the bus...
The day before yesterday, an AnadoluJet flight departed from
Sabiha Gokcen Airport in Istanbul en route to Kars. The flight
turned into a nightmare. First of all, because of rain in Kars the
flight could not land there and went to Trabzon instead. After
waiting for an hour the flight took off again but when the
weather conditions at Kars did not improve the aircraft was
forced to divert to Samsun.
After many hours waiting on the apron at Samsun, a new
aircraft had to be brought in because the plane and its crew's
work period had expired. Finally, the flight that was scheduled
to land at Kars at 14.50 touched down there at 23.05.
Intended destination Kars far right. Trabzon and Samsun on the
Black Sea coast.