türkçe
links to original Turkish article
(Hürriyet Newspaper, 6 October 2015)
Something borrowed (from Ersun B.), something blue...
In Çine district of Aydın province a massacre by an old
boyfriend was narrowly averted.
Soon after Hatice K. (24) broke up with her old boyfriend
Baki A. she wedded Mustafa K. (26). Hearing this, Baki A.
asked his friend Ersun B. to make a bomb for him. Baki A.
then left the bomb, made up of 4 filled pipes attached to a
picnic gas tube, in front of Hatice K.'s house with a note that
read "my wedding present for my love."
Husband Mustafa K. noticed the apparatus when he left the
house in the morning and alerted the police. A bomb-disposal
team came to Çine from Aydın and blew up the bomb in an
empty field near the house. Baki A. was arrested and Ersun
B. was released, pending trial.
Çine district is in south-central Aydın province.
----------------------------------------------------------------------
türkçe
links to original Turkish article
(HaberTürk Newspaper, 6 October 2015)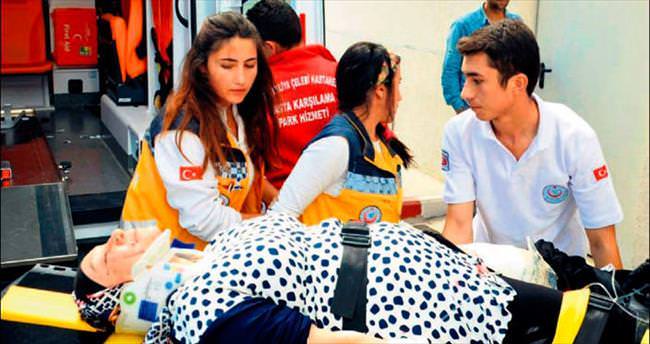 Good thing she didn't wear white.
An "old flame" created terror yesterday around noon at the
Kütahya marriage bureau. When truck driver Dursun K.learned
that Ömriye U., who was his common law wife for 12 years,
was marrying someone else he grabbed his rifle and went to the
marriage bureau.
Dursun K. sat in his vehicle for a while and when the family
emerged from the bureau building he sprayed them with rifle
fire. Ömriye U., her son Hüseyin S. and relative Fatma K.
were hit. As Dursun K. tried to flee he was apprehended by
citizens and handed over to the police.
Dursun K. had this to say about the whole affair: "I got a
message on my phone from Ömriye's son Hüseyin saying that
he was marrying off his mother to a rich guy. My pride wouldn't
stand for it!"
Hüseyin S. died at the hospital.