türkçe
links to original Turkish article
(Milliyet Newspaper, 11 July 2016)
Kars isn't Kansas either.
In Selim district of Kars province, near Eskigeçit village,
Selma Güneş (26) went with her older sister Sevgi Erdem (36)
and her son Devran Erdem (9) to visit relatives on the occasion
of the Ramazan holiday. Another sister, Cansu Ekinci (13), joined
them on a trip to Döşkaya hill to pick the flowers of the region.
Just wanted to make some new friends.
The sister came upon a dead baby bear but as they examined the
cub they were set upon by adult bears. Selma Güneş and her nephew
Devran Erdem fell off a cliff after being dragged by the bears.
Nearby shepherds intervened to save Sevgi Erdem and Cansu Ekinci,
who were both wounded by the bears. After a long search, the
lifeless bodies of Devran Erdem and Selma Güneş were found at
the bottom of the cliff.
Kars province
------------------------------------------------------------------------------
türkçe
links to original Turkish article.
(HaberTürk Newspaper, 11 July 2016)
Born (un-) Free
There was wild animal panic in Istanbul when a circus owner in
Esenyurt abandoned a lion and a bear in the garden of a shopping
center (!). Officials from the Forestry and Water Affairs Ministry
arrived and transported the exhausted animals to the Karacabey
Celal Acar Wild Animal Rescue and Rehabilitation Center, where
treatment has begun. There had previously been reports about this
same circus being involved in "poor treatment of animals."
(ya think?)
Esenyurt district of Istanbul
-----------------------------------------------------------------------
türkçe
links to original Turkish article
(HaberTürk Newspaper, 11 July 2016)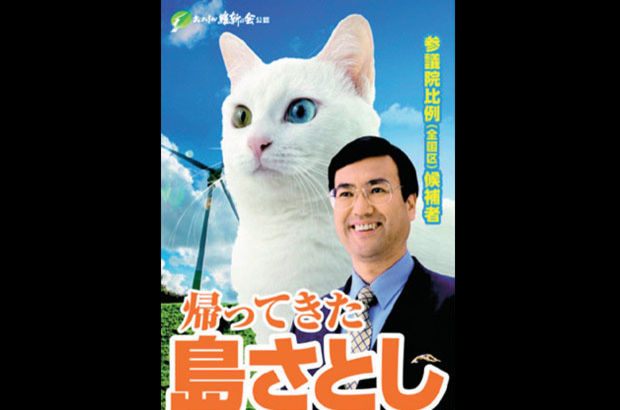 Japanese translation: "This beast is bigger than Godzilla!"
In Japan, a politician named Satoshi Shima attracted a lot of attention
with his campaign poster, first across the country and then on social
media. Shima posed for the poster photo with a Van Kedisi (Van cat,
famous for different colored eyes) in his quest for the seat in Mikawa
region. In Japanese culture cats are said to bring good luck and
prosperity to their owners.
From whence the beast comes - Van province.