türkçe
links to original Turkish article
(Milliyet Newspaper, 27 February 2017)
selçuk inscription
see TNT reporting on a Selçuk inscription
also found recently in Jerusalem by Prof. Tütüncü.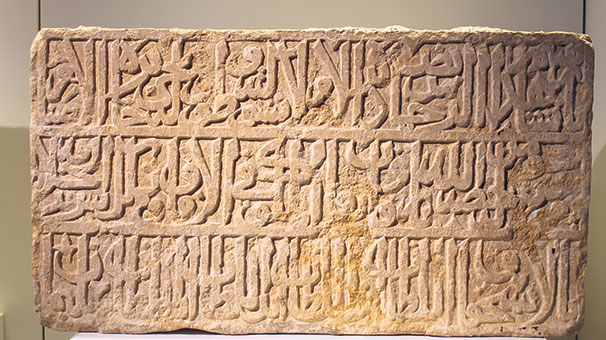 Nice work, but there should be an exclamation point after
'Tuesday, partly
cloudy' on line three.
An inscription of Ottoman Sultan Süleyman has been found in
the warehouse of the Israel State Museum in Jerusalem after 120
years. Researchers have long wondered about the fate of the
inscription until it was located by Mehmet Tütüncü, the head of
the Arab World Research Center.
During the visit of German Kaiser Wilhelm to Jerusalem in 1898
the inscription was lost after the portion of the Jerusalem wall on
which it rested was demolished. The inscription is a 'ferman' (decree)
that for the first time proclaimed that the Ottomans were the
possessors of the Islamic caliphate.
In the 1533 inscription, Sultan Süleyman identifies himself as the
'sole ruler of the world', 'the lord of the horizons' and the 'true
holder of the caliphate'. Prof. Tütüncü pointed out that the inscription
is very important for Ottoman history: "As is known, after Sultan
Yavuz Selim conquered Egypt the caliphate passed to the Ottomans.
But Yavuz Selim never declared himself the caliph."
"When Süleyman took the throne after his father Selim, he proclaimed
himself the caliph. The inscription I found in the Israel Museum has
the aspect of being the first declaration of the Ottoman caliphate. More
importantly, Israel Prime Minister Netanyahu wants the Siloam
Inscriptions, Israel's oldest writings, which are in the Istanbul
Archeology Museum. The Siloam Inscriptions were found during an
excavation in Jerusalem in 1880 and brought to Istanbul. Netanyahu
has said that he will exchange the Israeli inscriptions in Istanbul for
the Ottoman ones in Jerusalem."
Tütüncü explained the story of the missing Süleyman inscription as
follows: "After a great deal of research, during my last visit to
Jerusalem I learned that the inscription was in the Israel Museum's
warehouse. I found it there and photographed it. The inscription
had been on the wall between the Yafa Gate and the Jerusalem Fortress
in the past. The Yafa Gate is the main gate inside the Jerusalem Wall.
The internal fortress is surrounded by a trench. The Süleyman
inscription was on this wall but when Kaiser Wilhelm visited Jerusalem
in 1898 the trench was filled in to let the Kaiser and his retinue pass
more comfortably. Another gate was made in the wall, through which
the Kaiser and his entourage passed. When the trench was filled in,
Süleyman's inscription was buried and its whereabouts was unknown
for years."
The inscription reads: "Sultan Süleyman Han, son of Sultan, who
ordered this tower to be built to protect Islam's walls, who blocks
the worship of idols with his power and strength, who holds the
sovereignty of the world's nation's in his hand, the lord of the
horizons, the one with the right to be the head of the caliphate."
Back in the day...