türkçe
links to original Turkish article
(Milliyet Newspaper, 26 February 2017)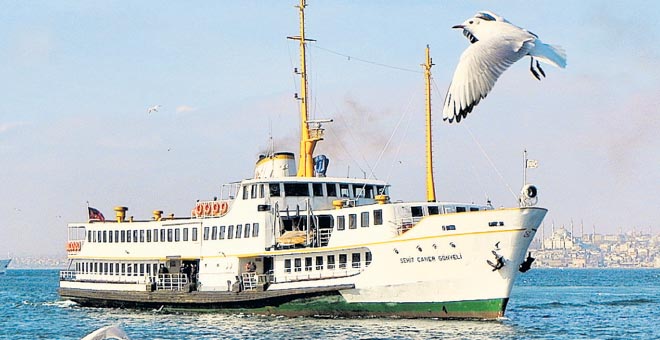 Just right for the Russian oligarch who has everything.
Who knows how many seagulls snatched bread in the air thrown
by ferry passengers? How many couples took rememberance photos
sailing up the Bosphorus? How many times did kids playing tom-toms
meet the Şehit Caner Gönyeli as it pulled up to the Beşiktaş pier?
The Şehir Hatları (City Lines) ferry, named for Caner Gönyeli who
lost his life in the Cyprus operation, plied the waters between Istanbul's
two shores for 35 years, making 15 trips each day between Beşiktaş
and Kadıköy, Eminönü and Kadıköy.
Some say that prior to use as a ferry, the ship served as a floating
police station. In any case, the ferry was sold to a group that wanted
to make it into a hotel. After 4 years of silence tied up at a dock in
Yalova, a photograph of the Caner Gönyeli appeared on the internet
with the following description: "60 meters in length, 10 meters wide,
Captain's bridge, 4 large halls and a 4-meter engine room below deck.
Has documentation for commercial use. Price: 1.2 million TL"
(about 300,000 USD).
Found in the used ferry section of the advertisements.
One might ask who would want to buy a Şehir Hatları ferry? Yiğit
Ali Günaydın, who put the ad on the internet, explained that "we
purchased it to make a hotel out of it. But for financial reasons we
weren't able to do it. So we've decided to sell it." So far, interest about
the sale has come from domestic and foreign tourism companies and
architects. Others may want to make a restaurant out of the ferry.
There are even those who want to take the ship to Tunisia and Morocco.
The ferry's namesake Caner Gönyeli was born in Cyprus but he came
to Turkey for his education at the Naval War College. He became a
supply officer assigned to the Kocatepe warship, which participated in
the 1974 Cyprus operation. On the first day of hostilities, the Kocatepe
was bombed by Turkish planes (!), mistaking it for a Greek ship.
Gönyeli was lost in the Mediterranean Sea. Each year there is a search
and rescue exercise in the waters off Cyprus in his memory. In 1977,
Gönyeli's name was given to the ferry built in the Haliç Tersanesi
(Golden Horn Shipyard) so that his memory would sail Turkish waters,
as well.
The sad aftermath of a 'friendly fire' incident.