turkce
links to original Turkish article
(HaberTurk Newspaper, 3 April 2015)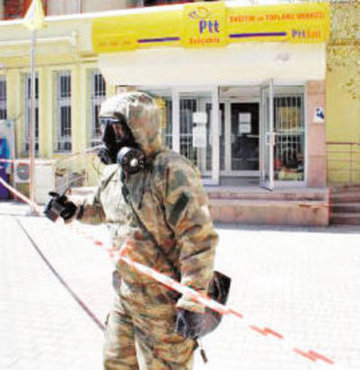 "I got all dressed up for nothing?!"
Powder in a letter sent from the USA to a woman in Konya
caused an 'anthrax' panic but it turned out that the powder
was beach sand.
As postal workers at the PTT distribution center in Selcuklu
district were sorting mail, they noticed 'powder' in a letter sent
from a person in the USA to a woman named Z.A. in Konya.
PTT officials immediately notified the Chemical Biological
Radiological Nuclear Command (KBRN), which sent a team
of specially outfitted experts right away.
//ed. note: KBRN here should not be confused with the Spanish
language radio station in Boerne, Texas
KBRN
//
The KBRN team came to the PTT distribution center, set up a
perimeter and put the unopened letter in a box to inspect it.
Meanwhile, two PTT employees who handled the letter were
taken to Selcuk University Hospital as a precaution. Eventually,
the powder in the letter that had caused the 'anthrax' panic was
determined to be beach sand.
It was later learned that the sand had been sent to Z.A. by her
sweetheart.
Selcuklu district is where the Konya provincial capital is
located.