turkce
links to original Turkish article
(Sabah Newspaper, 24 April 2015)
//ed. note: the Erdogdu Anatolia High School football team from
Trabzon
won the high school world championship held in
Guatemala,
beating Brazil 2-1 in the final.//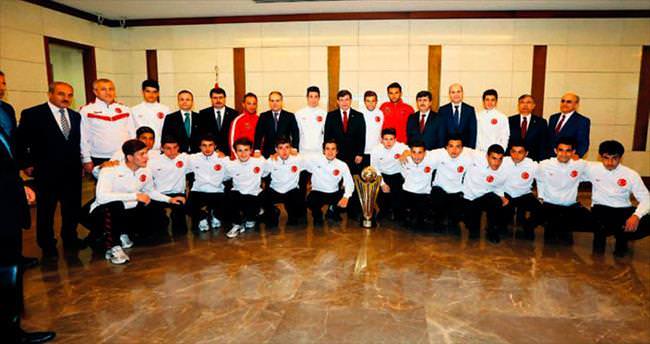 Champs with PM Davutoglu (back row, in the middle)
The champion footballers of Erdogdu Anatolia High School,
Trabzon, shared their memories from Guatemala with Sabah.
Furkan Odemis related that "they kept asking us 'weren't you
afraid when Brazil came out in the final?' They have the samba
and we have the kolbasti (Black Sea dance). When we beat our
opponent 2-1, we danced the kolbasti."
Captain Furkan Tas explained his feelings this way: "on our
way to the matches we saw armed men all over the place. From
what they told us, 20 or 29 people get killed every day. They
come from Mexico, storm the markets and loot them!"
Volkan, who scored the first goal against Brazil, said that "the
weather conditions really bothered us. It was 30 degrees (86F)
by noon and then it rained in the afternoon, causing floods.
We couldn't get used to the weather."
Victors return.
Berkan noted that "we played the first match without a spare
player. Since there wasn't room on the plane, we came to
Guatemala with only 12 players. The rest of our footballers
made it for the second match. If that wasn't enough, Furkan
turned his ankle in practice. We were left with 11 players
and had a hard time getting a 1-1 tie."
Selim Dilli added that "the Guatemalans really loved us. The
young people surrounded us before the match and wanted
autographs. They were thrusting papers into our hands for
signatures. It was great. Who are we? Are we Ronaldo? Are
we Messi? They printed out Turkish flags from computers
and wanted us to sign them. I cried and I signed. They were
shouting 'Turkey!' from the stands."
Turkish roots are showing...