türkçe
links to original Turkish article
(Milliyet Newspaper, 20 December 2016)
Must have been a sudden paint thinner shortage...
In the city of Irkutsk on the shores of Lake Baykal in northern
Russia, 49 people have died from drinking body lotion (!) that
contains alcohol. According to information that the TASS news
agency obtained from the Russia Investigation Committee (RIC),
tens of people went to hospitals complaining of being poisoned by
drinking the body lotion.
The RIC determined that the lotion contains methyl alcohol,
rather than ethyl alcohol, and that despite a warning on the label
of the lotion that it is not for "internal consumption" it ıs imbibed
as if it were an alcoholic drink. The person who put the lotion on
the market has been taken into custody.
The lotion, named 'Boyarışnikom', is offered in 250 milliliter
bottles for about 1 USD. The lotion has been collected from 100
different sales sites but there is still about 500 liters of the lotion
on the market. Currently, 53 people are in intensive care.
Appropriately, Irkutsk designated by a heart.
-------------------------------------------------------------------------------
ingilizce
links to original English article
(The Gardian Newspaper, 17 December 2016)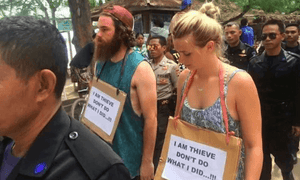 The should give English spelling lessons to pay their debt.
An Australian man and woman accused of stealing a bicycle
have been paraded through the streets of an Indonesian island
with signs around their necks warning others against theft.
The pair wore identical signs made of cardboard and string with
the message: "I AM THIEVE. DON'T DO WHAT I DID...!!!" as
they walked through the streets flanked by members of the local
security force for Gili Trawangan island.
Media
reports
quoted a member of the force as saying they were
caught on CCTV stealing a bicycle at around 1pm on Saturday.
They were paraded on Sunday and have since left the island.
Gili Trawangan, the largest of the three Gili Islands near Bali,
has a permanent population of about 800 people and is less than
2 miles long.
No doubt, fame awaits back at home.
A man who works at a dive shop told the Guardian the duo had
booked a diving trip and were doing the "walk of shame", a
punishment used regularly by local law enforcement.
He said the island was so small that there was no police presence.
Residents had formed a local security force that was governed by
authorities on the mainland and enforced the shaming penalty to
discourage stealing
"It's not just a group of vigilantes," said Mike, who asked to be
referred to only by his first name. "I've been here a year and it's
happened between seven and nine times, to tourists but locals as well."
In other photos of people doing the walk of shame, they are
flanked by men in black police-style clothing with truncheons.
I'd turn back if I were you.