türkçe
links to original Turkish article
(Sözcü Newspaper, 26 December 2016)
Divorces repackaged: Pickled (left), salted (right).
A 'Yeşilçam' (old Turkish movie) film has come true! Only this
time the reason for divorce wasn't a pickle, it was salt. In the old
film 'Neşeli Günler', Adile Naşit and Münir Özkul played the roles
of a couple who had divorced because of a pickle argument but
years later they remarried.
In Çanakkale, though, a couple split up over a salt argument and
12 years later they have come to the wedding table once again.
Arzu Bilgili (35) and Cumhur Bozoğlu, who live in Ezine district,
got married 17 years ago and had a daughter named Melisa. But
one day because of a salt argument they divorced.
Life imitates art.
At the time Melisa was 5 years-old but since then she has wanted
her parents to re-marry and after 12 years, with Melisa's urging,
the couple has tied the knot once again.
Ezine district is on the Aegean coast of Çanakkale province.
------------------------------------------------------------------------------
türkçe
links to original Turkish article
(HaberTürk Newspaper, 26 December 2016)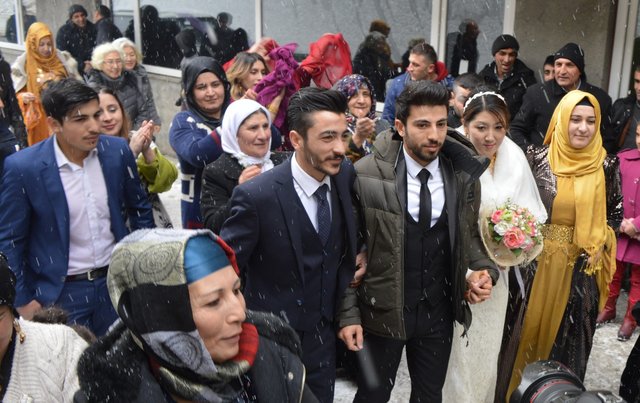 Bride realizes "we're not in Korea anymore."
Four years ago, Emrah Kaya (28), a medical student at Hakkari
University in southeastern Turkey, went on a university-sponsored
trip to Istanbul. During the trip Kaya met South Korean medical
student Eanjoo Ham on a ferry cruise. They courted for four years
and the other day they were married under falling snow in Hakkari.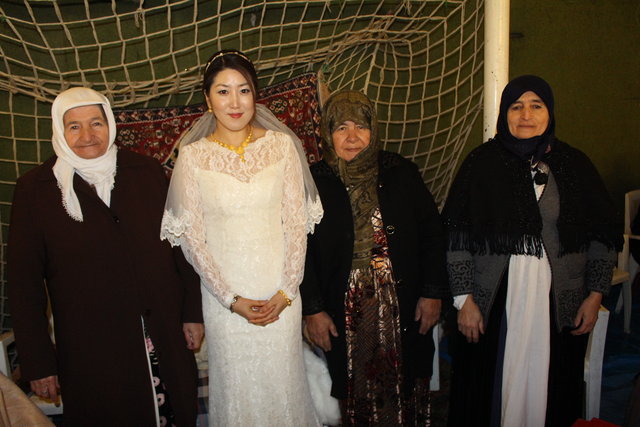 She'll have to get a new wardrobe.
According to groom Kaya, "after we met we fell in love and decided
to get married. We had the wedding in Hakkari, according to the
customs and traditions of my home. My wife has finished medical
school and if we can find work here we'll settle here."
Hakkari province