türkçe
links to original Turkish article
(HaberTürk Newspaper, 4 December 2016)
Route of the revitalized Golden Horn-Kemerburgaz line (yellow).
The Kağıthane and Istanbul municipalities are reviving the disused
rail line between the Golden Horn and Kemerburgaz, near the Black
Sea. Known as the "Haliç-Kemerburgaz Dekovil Hattı" (Golden
Horn-Kemerburgaz Narrow-Gauge Line), the railroad was built to
bring lignite coal from north of the city to the Silahtarağa Electric
Power Plant during World War I.
The tender for construction of the new rail line will be offered on
13 January 2017, with completion expected in 22 months. The 25-
kilometer line will start at Santral Istanbul, the site of the former power
plant, and follow the Kağıthane Stream and Cendere road to Göktürk
and from there to the Ayvad Bendi recreation area. There will be 10
stations along the route.
Project area in red.
The line will have connections to the Mahmutbey-Mecidiyeköy
metro line at its Sadabat station, to the Eminönü-Alibeyköy
tramway line at its Silahtarağa station and to the planned İstiniye-
İTÜ-Kağıthane metro line at its TT Arena station.
Coal for the Silahtarağa power plant was originally supplied from
Zonguldak, on the western Black Sea coast. This, though, became
problematic during World War I and so the rail line was built to
bring coal from the lignite mines at Ağaçlı Köyü in Eyüp district.
Portions of the line were used until 1956.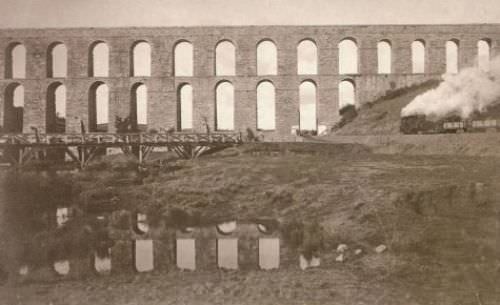 Chugging along long ago next to an even more ancient aqueduct.
-------------------------------------------------------------------------------
türkçe
links to original Turkish article
(HaberTürk Newspaper, 4 December 2016)
ADARAY (blue) connects to the main Istanbul-Ankara line at Arifiye.
A citizen named Uğur Selman, who lives in Mithatpaşa village
in Adapazarı district of Sakarya province, claims that the ADARAY
commuter rail line passes through his property. After officials from
the land records office came to measure the area in question, Selman
removed poles belonging to TCDD (Turkish Railways).
As a consequence of Selman's actions, the gravel bed of the line
began to slide so the Sakarya municipality halted travel on ADARAY
until a settlement is reached. The municipality's lawyer told Selman
that he was "acting illegally and deliberately disrupting public
services."
Uğur Selman insists on his right (of way).