turkce
links to original Turkish article
(Sabah Newspaper, 19 May 2014)
video
links to video of the hair-raising escape from doom!
Our hero emerges unscathed. Cheats death yet again.
In Resadiye district of Tokat province, driver Ismail Tasdelen (59)
explained to Sabah his escape from death as he tried to repair
his truck. The 20-year driver's truck began moving while Tasdelen
was underneath it because he had forgotten to put on the hand
brake. A security camera nearby recorded the incident.
The truck was in front of a bamboo workshop in Resadiye and
was loaded with tables and chairs. The truck wouldn't start so
Tasdelen looked under the truck for a problem but the truck
began to roll. Tasdelen escaped unhurt as the truck moved
forward but as he tried to get back into the driver's seat the
truck hit a wagon and Tasdelen was nearly crushed between
the truck and the wagon.
Remarking on the incident, Tasdelen had this to say: "I have more
meals to eat in this world. Thank God. Death is closer than the
distance between one's eye and eyebrow. God has preserved me
for my family. I escaped from an accident in 1976. The brakes
failed on the bus I was riding in in Sakarya and we hit a truck
head-on. The bus was split into two and 13 people died. I came
out without a scratch."
Resadiye district is in Tokat's far east.
============================================
turkce
links to original Turkish article
(Sabah Newspaper, 19 May 2014)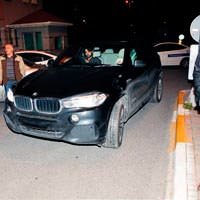 Wrong-side drive saves crooner a bundle.
A thief entered singer Yusuf Guney's home where he lives
with his father in Yesilkoy, Istanbul. The robber made off with
cash, a laptop computer, a $10K-value watch and Guney's
500,000 TL ($250K) BMW X5 jeep. However, because the
jeep, which Guney bought in London, has right-hand drive the
thief panicked and abandoned the vehicle 4 kilometers away in
Kucukcekmece.
Soon afterwards Guney claimed the jeep at the Kanarya police
station. Because the vehicle was purchased in England its
insurance is not valid in Turkey. As police search for the robber,
who left the key in the jeep when he abandoned it, Guney had
this to say: "if the car hadn't been found I would have lost a lot
of money. I'm grateful to the police. May God reform all thieves.
I don't want to put a curse on them . God willing their hearts
will be filled with love."