turkce
links to original Turkish article
(Sabah Newspaper, 25 May 2014)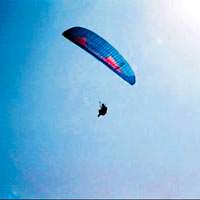 Festival or bust! Not to be denied!
In Trabzon, family doctor Ali Ozkan, known by the
nickname "The Crazy Doctor", was refused entrance
to the Black Sea Technical University (KTU) campus
because he was on roller skates. Ozkan then parachuted
into the university grounds.
Ozkan was captured by the university police and fined
110 TL under the misdemeanor law for "ignoring security
rules". This brought the following objection from Ozkan:
"I wanted to participate in the Spring Festival at the
university but they wouldn't let me in. I even took off
my roller skates and they still wouldn't let me in. So
then I got my paragliding parachute and flew into the
stadium inside the campus from the hill where the
KTU Medical Faculty is located."
"I picked up my chute and as I was entering the
festival area I was arrested by the campus police. Then
they fined me. I did it to protest a stupid ban. I'll pay
the fine."
Trabzon province.