turkce
links to original Turkish article
(Sabah Newspaper, 15 May 2014)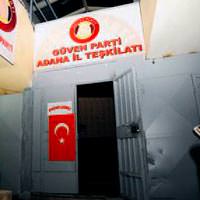 Guven (Trust) Party HQ - 'In Tombala We Trust"
In Adana's Seyhan Kurukopru neighborhood, the fourth
police raid in 27 days at the provincial headquarters of
the Guven (Trust) Party, where 'tombala' (sort of like
bingo) was being played, resulted in 101 people being
written up, including the Guven Party provincial chief.
The method used by the party members to avoid arrest
shocked the police. At first, police couldn't find any
evidence of gambling at the venue because, as it turned
out, all the tombala equipment had been flushed down a
toilet, which had been covered with PVC and which
provincial chief B.A. claimed was a 'handicapped toilet.'
Police had previously raided the party building on 17 and 28
April and 4 May but since they couldn't get a shut-down
order from the district chief or the governor they could not
seal the site.