turkce
links to original Turkish article
(Sabah Newspaper, 14 May 2014)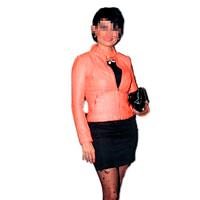 Nice outfit Zahide hanim. Looks expensive...
In Kadikoy, Istanbul, banker Zahide M. has been
brought to court on the charge of forging the signature
of a bank customer and withdrawing 50,000 TL from
the account. Zahide M. worked as a portfolio manager
and deputy manager at the bank in the Suadiye section
of Kadikoy from 2008 to 2012.
After Zahide M. left the bank some irregularities were
uncovered during investigations. In one such instance,
50,000 TL was withdrawn from the account of customer
Reyhan O. without her knowledge and by the forgery of
her signature. The money was transferred to the account
of someone unknown to Reyhan O.
Zahide M. was asked about the incident and claimed that
the transfer from Reyhan O.'s account was done accidentally
She asserted that she compensated the bank for the mistake,
with interest. Zahide M. stated, as well, that she had never
signed anyone else's name. The prosecutor, however, did
not find her explanations credible and indicted her for
embezzlement.
Currently, Zahide M. is being tried in Istanbul's 8th Serious
Crimes Court and faces a jail sentence of up to 6 years.
In her defense, Zahide M. asserted that "we worked in a
high-stress environment. Most of our customers were aged
and well-off. In order to be able to get things done quickly
we had them sign blank papers." The hearing has been
delayed while evidence is collected.
=======================================
turkce
links to original Turkish article
(Sabah Newspaper, 14 May 2014)
In Bayrampasa, Istanbul, a conman who called an elderly
woman, claiming to be a policeman, wanted 50,000 TL
from her but the real police nabbed him. The woman, K.Y.
(70), informed the real police about the proposal and then
brought a bag the police gave her, filled with paper, to
the address the conman had specified.
K.Y. left the bag under a car in Bayrampasa, as instructed
by the conman. However, plainclothes police were laying
in wait for H.B. when he came to grab the bag and arrested
him. It turned out that H.B. had previously defrauded other
elderly women, including E.Y. (75), E.B. (67) and M.M.U.
(86).