turkce
links to original Turkish article
(Sabah Newspaper, 8 May 2014)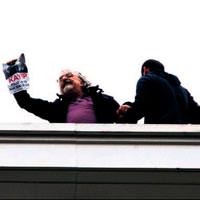 Desperately seeking Polly.
In Istanbul's Taksim area, a retired artist who claimed
that his 6 year-old cat Polly was stolen, climbed up to
the roof of a restaurant to plead for help from police.
Mucahit Akgunak (58), waving a poster of Polly in his
hand, screamed out "my 6 year-old girl was stolen in
Beylerbeyi (Istanbul). I'm expecting urgent assistance
from all officials. Please find my girl!"
Police were able to convince Akgunak to come down
from the roof but Akgunak, disappointed that his
efforts had been in vain, exclaimed "does a living thing have
to be a person to be searched for!"
========================================
turkce
links to original Turkish article
(Vatan Newspaper, 9 May 2014)
Where there were two, only one remains...
In Istanbul, N.D. found one of her cats dead in the apartment
of her former boyfriend and, in revenge, she smashed his
belongings. In her own defense, however, N.D. claimed that
her foot became entagled as she was taking her other cat
to the veterinarian, resulting is the breakage.
N.D.'s former boyfriend A.Y. went to Izmir to get married (!)
but N.D. had left her two cats in his apartment in Arnavutkoy,
Besiktas, while they were together. When she found one of the
cats dead she rained havoc on the boyfriend's belongings as
vengeance, according to a suit filed against her, which demands
7,500 TL in damages and a three-year jail sentence.
N.D. claimed that as she was taking her other cat to the
veterinarian her foot got caught in the TV cables, causing
the TV to crash, along with a coffee table. She said she
would be willing to pay for this damage.