turkce
links to original Turkish article
(Hurriyet Newspaper, 22 May 2014)
Lord of the Rings Abuzer Celik, just takes two.
Abuzer Celik works as a street cleaner in Adiyaman
and what he did has made people say "humanity lives!"
Yesterday afternoon, while cleaning Hikci Avenue Celik
found a box of gold rings weighing 1.5 kilograms mixed
in with garbage.
Celik took the box to the police who then got in touch
with Mehmet Ali Yaylagul, the head of the Gold and
Jewelry Merchants Association. Yaylagul determined
that the gold belonged to a wholesaler from Gaziantep
and he accepted the box back from Celik on behalf of
the wholesaler.
Celik, the father of 6, was given two rings as a reward
and three days of leave by his boss.
Adiyaman province
==========================================
turkce
links to original Turkish article
(Sabah Newspaper, 19 May 2014)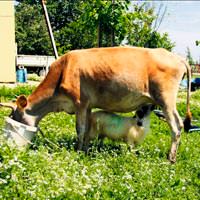 "Got Milk?"
In Carsamba district of Samsun province, a cow has been
nursing a lamb for 1.5 months because the lamb's mother
abandoned it. The sheep belonging to Ahmet Yorukcu (62)
and his wife Ayse (55) of the Kurtulus neighborhood gave
birth to the lamb but then rejected it.
At first Ayse nursed the lamb with bottled milk but realizing
that when she was away the lamb would starve, Ayse had
her 4 year-old cow take on the job. So for a month and a
half 'Esila', named after Ayse's 3 year-old granddaughter in
Antalya, hasn't left the cow's side. Ayse said that "when
'Esila' sees me she stays by me and when I leave she stays
by her 'mother' the cow. To lessen my longing for my
granddaughter I gave 'Esila' that name."
Carsamba district is in eastern Samsun.