turkce
links to original Turkish article
(Hurriyet Newspaper, 2 May 2014)
How could you, Ibrahim C.!?
In the Kormenli summer pasture of Bagcagiz hamlet
in the Mut district of Mersin province, it was determined
that Ibrahim C. had killed a rabbit. Since Ibrahim C.
was hunting without a license he was fined 1,783 TL.
However, because the rabbit was pregnant with 4
babies Ibrahim C.'s fine was increased to 3,783 TL
and his semi-automatic rifle was confiscated.
Mut district is in NW Mersin province.
==================================
turkce
links to original Turkish article
(Sabah Newspaper, 3 May 2014)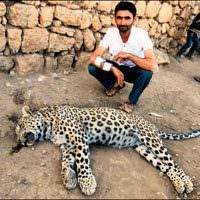 Wounded 'tiger' surveys dead leopard (no relation to
Def Leppard).
In Diyarbakir, Mahmut Kaplan (ironically, 'kaplan' means
'tiger' in Turkish) one of two shepherd cousins accused of
killing an Iran leopard, is facing 5 years in jail for slaying an
animal of an endangered species. Kaplan claims that he did
not hunt the leopard but rather protected his cousin from an
attack by the leopard.
The cousins were tending their flock in Solmaz village of
Cinar district five months ago when Kaplan killed the leopard.
He and his cousin Kasim Kaplan were charged with "violation
of hunting laws" and faced a judge for the first time yesterday.
Unfortunately for the Kaplan cousins, the judge, Omer Aykut
Ozdogan, is a member of Greenpeace (!).
Lider Tanrikulu, a member of the Antalya Bar's Animal Rights
Commission, asserted that "the suspects' defense is contradictory.
If a leopard attacks it doesn't give up. When one takes into
account the jumping speed of the animal and the distance the
leopard would have leaped on the suspect. The story the suspects
have put forth doesn't mesh with what should have happened."
An on-site inspection of the incident scene will take place on
12 June and Kasim Kaplan will be transported to the police
forensics lab to determine whether or not he was clawed by
the leopard.
Cinar district is Diyarbakir's southernmost.