turkce
links to original Turkish article
(Sabah Newspaper, 8 May 2014)
//ed. note: perhaps the way nearby Batman has hoped to
bask in the glow of its Hollywood namesake, Sirnak sees
a similar opportunity. Not sure biblical geography agrees,
however, with Mt. Ararat a few hundred miles away.//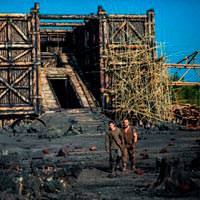 Headed for Sirnak-by-the-Sea?
The head of the Sirnak (pronounced Shur-nock) Culture, Tourism
and Development Association, Cihan Birlik, has stated that his
organization has made a proposal to bring the wooden ship used
in the film "Noah: The Great Flood", starring Russel Crowe and
filmed in Panama, to Sirnak. Birlik noted that "we want to display
it in the national park we are planning to establish on the slopes
of Cudi Mountain."
Birlik explained that his group would like to take advantage of the
improved atmosphere in the area created by the "solution process"
(rapprochement between the Turkish government and the Kurdish
PKK). He remarked that "just as the Trojan Horse was brought
to Canakkale, we will bring Noah's Ark here. After placing it on
the slopes of Cudi Mountain, heretofore known as a place of
armed clashes, we'll ensure that a national park is set up, as well.
We're also planning a zoo."
According to Birlik, the Sirnak governor, Hasan Ipek, is behind
the project. Birlik added that "we'll present a plan to the Culture
Ministry and request support. We're also thinking of making a
documentary about the ship's transport from Panama to Sirnak.
The project will bring thousands of tourists to Sirnak and Cudi."
Local citizens are supporting the project, too. Ekrem Ertas said
that "Noah's Ark will come to its rightful home and people from
around the world will come to see it." Ozgur Sakur, a local
merchant, opined that "it will be accepted that Noah's Ark
is in Sirnak."
Noah might find Sirnak a bit off course.