turkce
links to original Turkish article
(Sabah Newspaper, 12 May 2014)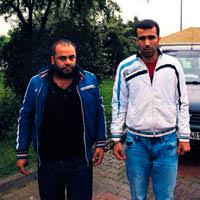 Like they came straight out of Central Casting.
Melahat A. (86) lives in Yesilkoy, Istanbul. Last Thursday
two individuals phoned her, saying they were policemen from
the Bakirkoy police station, and warned Melahat to be
watchful for conmen who might call her claiming to be police.
The callers told Melahat to check the number they were
calling from and she was able to confirm that the number was
that of the Bakirkoy police station.
The conmen then told Melahat that her bank account had
been seized by a terrorist organization so that same day
Melahat withdrew 171,000 TL from her account and gave
it to the conmen. The next day, conman B.D. (35) called
Melahat to tell her that the operation had been a success
but he said that she should give them any valuables in her
home for protection.
When B.D. and accomplice I.C. (37) arrived at Melahat's
home she gave them 200 pieces of gold and a 150 year-old
diamond necklace she had received from her mother-in-law,
along with other jewels. The conmen next wanted 660,000 TL
from another of Melahat's accounts but when Melahat called
the real Bakirkoy police station to say that the money would
be available the following day the subterfuge came to light.
B.D. and I.C. were arrested when they came to pick up the
money.
=========================================
turkce
links to original Turkish article
(Sabah Newspaper, 5 May 2014)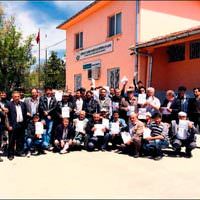 Bamboozled!
Debt notices arrived at the homes of 300 of the 600 members
of the Felahiye district (Kayseri province) Agriculture Credit
Cooperative last week. The villagers knew they owed no
money so they rushed to the cooperative to find out what was
going on, only to find out that accountant Yusuf Metin Karanfil
had been missing for three days.
It turned out that Karanfil had taken credit from the cooperative
in the name of the farmers and had pocketed the cash received
from the farmers for the purchase of fertilizer and fuel. Karanfil's
family also filed a 'missing persons' notice with the police.
Huseyin Ozkok, among the farmers who have been charged with
between 10,000 TL and 150,000 TL debts, stated that "we never
looked at what we got and how much from the cooperative. We
took what we needed and signed for it. Our good intentions have
been abused."
The bamboozled farmers have made a complaint to the prosecutor.
It is alleged that lately Karanfil has been playing the stock market.
Felahiye district is in Kayseri's north.