turkce
links to original Turkish article
(Sabah Newspaper, 28 May 2014)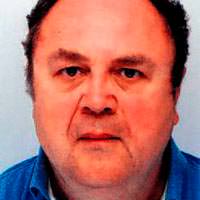 Heinz -57 body parts mixed with concrete, not catsup.
In Graz, Austria, two Turkish bankers are accused of
murdering a customer from whose account they
embezzled money. According to the allegation, Halil I.
(29) and Ferhat K. (23) killed bank customer Heinz E.
(53), cut up his body and put it in cement.
The story begins with the disappearance of former
diplomat Heinz E. on 12 February. The suspects were
taken into custody when Heinz E.'s DNA was found
in a container they had ordered from China to store
LED lamps.
During interrogation, Ferhat K. confessed that they
had killed the former diplomat, mixed his body parts
with concrete and disposed of it. For his part, Halil I.
denied involvement. Barbara Schwarz, a spokesperson
for the Graz Prosecutor's Office, stated that Halil I. has
Turkish citizenship and Ferhat K. Austrian.
According to Schwarz, the bankers embezzled 80,000
Euros from Heinz E.'s account to their own. When
Heinz E. discovered the theft the suspects took him
from his home, strangled him and cut up his body into
parts in the container. The bankers thoroughly cleaned
the container - or so they thought - but Heinz E.'s DNA
was found nonetheless.
Heinz E. was under psychological treatment and had
tried to blow up a gas station with a gas can in 2011 (!).