türkçe
links to original Turkish article
(HaberTürk Newspaper, 1 May 2015)
The ultimate 'wrong place, wrong time' event.
In Tarsus district of Mersin province, a truck driven by an
unidentified individual passed through the train crossing at
Gazipaşa Boulevard and snapped off one of the cables
on poles there that facilitate the train activities.
The truck went on its way but an end of the cut cable caught
on the passing Tarsus-Mersin train, number 6217, The train
dragged the cable for about 100 meters, causing one of the
concrete poles to which the cable was attached to fall onto
the tracks.
Meanwhile, the other end of the cut cable caught on a pickup
truck, plate number 33 NVN 50, on Şehitler Avenue, and the
train dragged the pickup truck for about 60 meters. While
being dragged, the pickup smashed into two cars and a
pedestrian going from Gazipaşa Boulevard to Hal Avenue.
At this point, the cable between the train and the pickup
truck was cut, allowing the pickup to stop. The driver,
Şeref Özcan was seriously injured and the individuals hit
by the pickup - Ilhan Gönültaş, Enes Burak Gönültaş,
Zübeyde Göültaş and Azizi Çiftci - were taken to hospital.
------------------------------------------------------------------------
türkçe
links to original Turkish article
(HaberTürk Newspaper, 2 May 2015)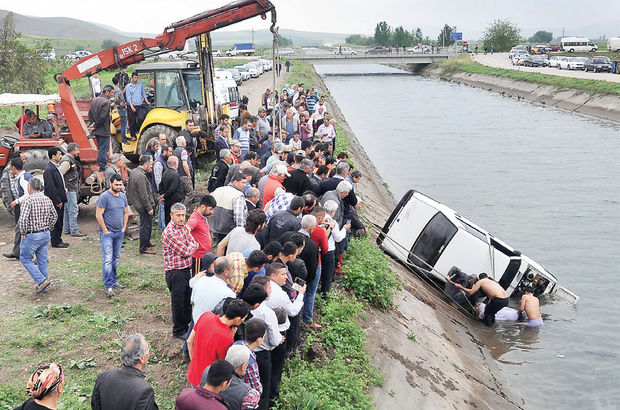 Yet another phone call that couldn't wait...
Yesterday at about noon, Mithat Başaran lost control of his car
and plunged it into the irrigation canal in Cevdetiye town of
Osmaniye province. Citizens called police and an AFAD (rescue)
team came and retrieved the sunken car from the water with a
winch. Driver Mithat Başaran, however, could not be saved.
Coincidentally (!), two weeks ago Başaran plunged his car into
the same irrigation canal but was lucky to be saved by passing
motorists. Cevdetiye Mayor Ilhami Önal stated that Başaran's
first accident occurred while he was talking on the phone and
he opined that this second, fatal, accident may have happened
for the same reason. The Mayor lamented that "these kinds or
accidents happen quite often around the canal."
Osmaniye province.