türkçe
links to original Turkish article
(Sabah Newspaper, 12 May 2015)
Enfield Mayor Ali Bakır
Ali Bakır, one of the seven children of Hasan and Elif Bakır
of Bakış town in Elbistan district of Kahramanmaraş province,
went to London 21 years ago for language training. Subsequently,
he earned a masters degree in political science and international
relations.
Bakır realized that as a minority member there the problems
he faced could only be solved by those with a say in politics.
He founded the Fenerbahçe Association (for the Istanbul
football team of the same name) in England and worked in
various positions for 10 years before being selected as a
member of the municipal council of Enfield, population
700,000, in 2010.
Last June Bakır received 41 of 63 votes from the council
member to become the 50th mayor of Enfield, London's most
populous distict, which has a Turkish population of 19.2%.
Elbistan district is in northeastern Kahramanmaraş province.
---------------------------------------------------------------------------
türkçe
links to original Turkish article
(Sabah Newspaper, 12 May 2015)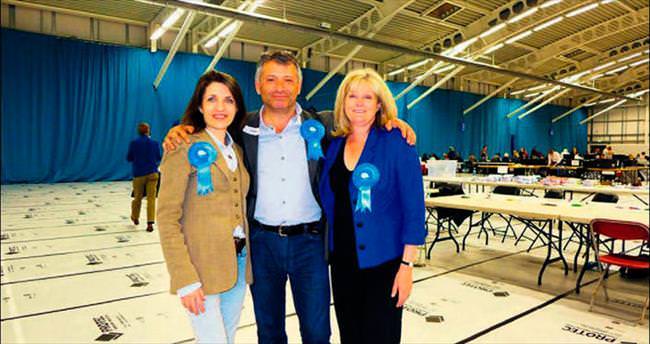 St. Albans Mayor Mehmet Gaygusuz.
Mehmet Gaygusuz, originally from Gümüşhane, became the mayor
of St. Albans in the local elections held in England on 7 May.
Gaygusuz was born in Ünlüpınar town of Kelkit district and went
to England when he was 16 years-old.
After working as a dishwasher and a waiter, years later he
settled in St. Albans village, which has a population of 25,500.
He opened a restaurant, married a local girl named Maureen and
obtained dual citizenship. In 2006, Gaygusuz, who has two
children, was selected to the St. Albans Municipal Council.
In the May 7th election, Gaguysuz was the candidate of the
Conservative Party and bested 7 competitors to win the mayoral
seat. Gaygusuz noted that there are no Turks among the
electorate in St. Albans and he added that "I'm proud to have
been elected by the English voters. My next goal is to become
a parliamentarian."
Kelkit is the southernmost district of Gümüşhane province.