türkçe
links to original Turkish article
(Milliyet Newspaper, 13 February 2018)
"You're not from around here, are you mister...?"
The famous American performance group 'Blue Man Group'
has come to Istanbul. The group will perform at the Zorlu
Center between 13-25 February. Yesterday the group
members put on a 'street performance' in the Eminönü
neighborhood and had many citizens wanting to take selfies
with them.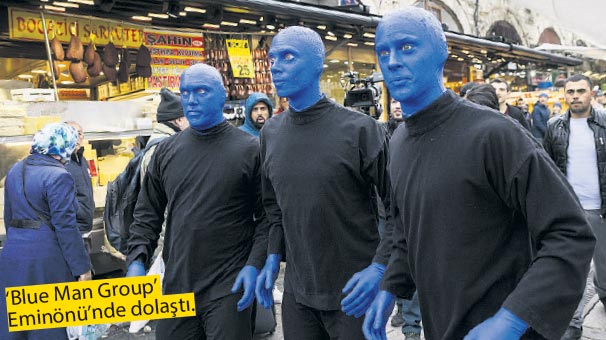 A bit disoriented after touchdown on Planet Istanbul.
One citizen, in particular, was miffed by the blue people
and asked "are you from outer space?". Group member
Chris Wink explained that "it's a big honor for us to perform
for an audience in Turkey." This is the first time the group
has come to Turkey to display their giant production, which
brings instruments and technology together for an interactive
performance.
Group famous for playing venues large and small.