turkce
links to original Turkish article
(Sabah Newspaper, 20 December 2014)
Yummy!
A bear that has been stealing bodies from a graveyard in
Kastamonu in recent months, took one again 25 days ago.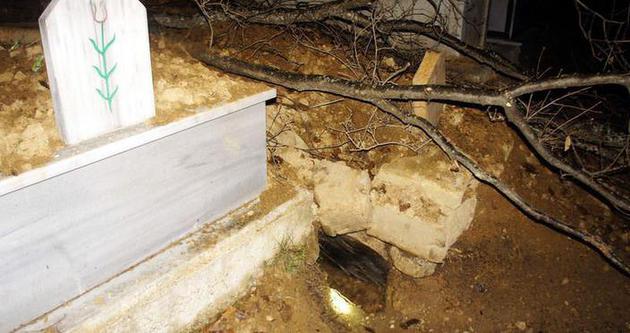 Final resting place as dinner in a den.
A.K., a resident of Imrali village in Kure district, Kastamonu
province, died in a hospital in Istanbul 25 days ago. His body
was brought to Imrali where A.K. (65) was buried in the local
graveyard. Afterwards, however, a bear ripped up the grave.
First, the bear tried to get at the body from the head side but
was foiled by the wooden boards there. Next, though, the bear
successfully dug at the feet side of the grave and extracted the
body.
When villagers came to the cemetery for another funeral they
noticed that A.K.'s grave had been ripped up. The Gendarmerie
was notified and a team from the Provincial Disaster and
Emergency Aid Directorate set out to find the bear and the body.
Nearby the gravesite, some bones and the funeral shroud were
found, as well as fur from the bear.
Village chief Yasar Guleryuz lamented that "both our dead and
our living are in danger these days. The bears are after us either
way. There are quite a lot of them around our villages lately.
We're hoping for help from the authorities, in this regard.
Previously, bears raided a graveyard in Dokukat village of
Agli district.
Kure and Agli districts are in north-central Kastamonu.
=========================================
turkce
links to original Turkish article
(Hurriyet Newspaper, 21 December 2014)
"Hey, I get the wishbone!"
In Muratpasa, Antalya, Ayhan B., a teacher at 75th Year
Republic Anatolian High School, was giving a lesson on
religious culture and morality on 4 December. During
the lessen about funeral ceremonies in different religions
and cultures, Ayhan B. showed the 12th grade students
pictures of Buddhist monks separating human body parts
and vultures eating the parts.
When some parents complained, Ayhan B. was issued
a warning. The Provincial Education Directorate has
begun an investigation into the incident.
Muratpasa district is near Antalya city.