turkce
links to original Turkish article
(Sabah Newspaper, 3 December 2014)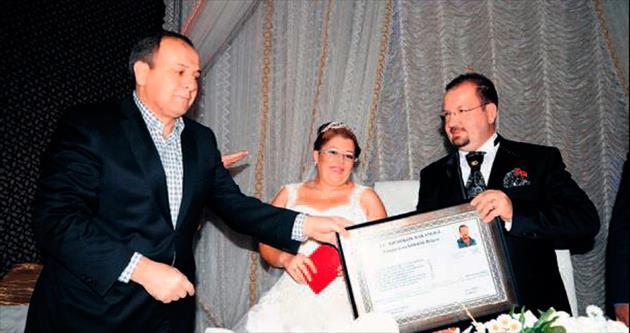 So what's left to look forward to?
The wedding ceremony for Selda and Mehmet Akif Onar at
the Tarsus Ruya Ballroom was quite a colorful event. During
the ceremony the groom was presented with an "International
Henpecked Husband' certificate prepared for him by his friends.
Tarsus District Chief Hasan Goc, a witness for the couple,
performed the marriage and presented the marriage certificate
to the bride. Goc then gave the "Turkish Ministry for Henpecked
Husbands International Henpecked Certificate" that had been
written by Mehmet Akif's buddies, to the groom. Mehmet
Akif laughed obligingly, as did the assembled guests.
On the framed certificate the following scale was included:
"obedience to wife and attention to her words 10, hanging
laundry and washing dishes 8, ironing 6, watching the kids 9,
making dinner and pastries as good as your wife 10, displaying
this certificate with pride 10"
District Chief Hasan Goc wished the young couple well, as
did Tarsus Mayor Sevket Can.
Tarsus is between the cities of Adana and Mersin.