turkce
links to original Turkish article
(Sabah Newspaper, 23 December 2014)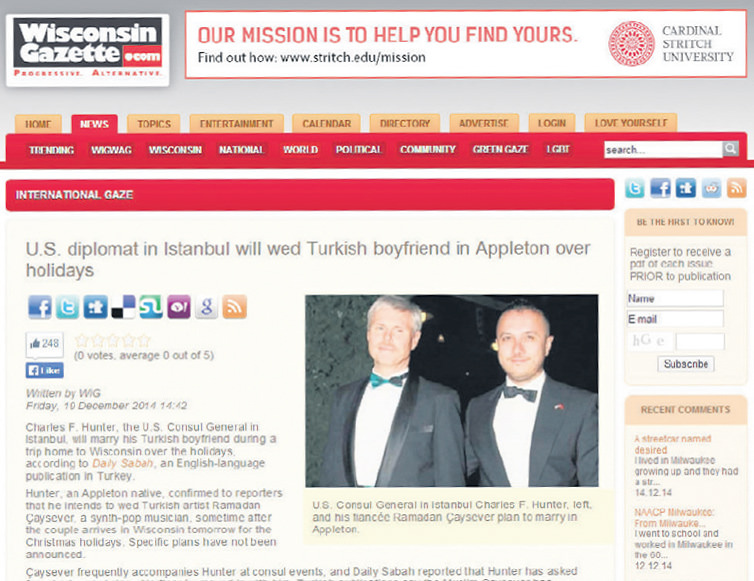 Wedding of the year in Appleton, Wisconsin.
The U.S. press is fascinated by the upcoming marriage of
diplomat Charles F. Hunter to Turk Ramadan Caysever. The
year's love bomb was exploded by U.S. Istanbul Consul
General Hunter but the society set here is in a tizzy because
Caysever is one of theirs, even having jilted a famous businessman
to be with Hunter.
The U.S. press has characterized Caysever as a 'popstar' and a
newspaper in Wisconsin, Hunter's home state, has put Caysever's
clips on its internet site, heaping praise on his performance. Hunter
has hired a bodyguard for Caysever, according to US media, and
the Turk has converted to Christianity. The couple will be married
at the end of December at Hunter's sister's home in Appleton,
Wisconsin, and then return to Istanbul during the first week of
January.
But in its coverage, the Wisconsin press has gotten our Turkish
popstars mixed up! The Wisconsin Gazette erroneously identified
famous Turkish star Tarkan as Caysever, based on a photo that
Hunter had taken with Tarkan and Caysever at a concert. And
the fact that the real Caysever was cut out of the photo the
newspaper published drew reactions from some readers.
Tarkan bookended by the newlyweds-to-be.