turkce
links to original Turkish article
(Sabah Newspaper, 9 December 2014)
/
/ed. note: check out our blog of 22 August 2014 for a
previous incident of this ilk.//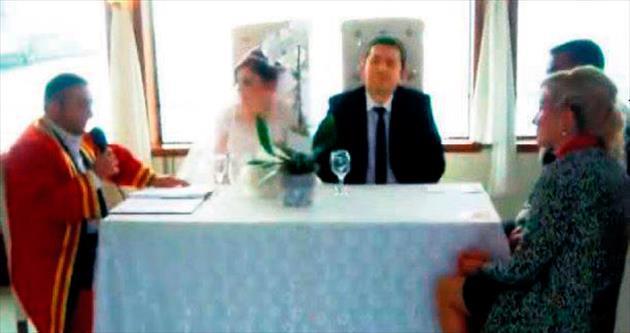 Is Abdullah G. grimacing, this second time around?
Eda O., the niece of Mehmet Bekaroglu, the Deputy General
Chairman of the Peoples Republican Party (CHP), was taken
into custody at her own wedding for being married under
false circumstances. The couple was taken to the police
station after the wedding ceremony, which Bekaroglu attended,
and then released.
Eda O. and Abdullah G. have been together for a while.
Knowing that Abdullah G. could not leave his wife because
of their children, Eda O. was willing to risk everything. The
couple sat down and hatched a plan to remedy their situation.
According to the plan, Abdullah G. prepared false documents
using the identity information of his older brother, who is
unmarried. The documents were then submitted to the marriage
bureau.
Bekaroglu (name means 'son of bachelor') 'unaware' groom
wasn't one...
Using his brother's information, but without his picture (!),
Abdullah G. was able to obtain a sample birth certificate, an ID
card and a health report. He next applied to the marriage bureau
and got a date for the wedding. As the day approached, invitations
were printed but the couple decided to hold the ceremony on a
luxury yacht in order to avoid drawing too much attention (!).
The wedding was held on the Berika yacht on 6 December, in the
waters off Uskudar, Istanbul, with a limited number of select
guests in attendance, including CHP Deputy General Chairman
Bekaroglu. The couple was officially married but the Population
Directorate had gotten wind of the ruse and reported it to the police.
Dressed as civilians, policemen attended the ceremony as if
they were guests and then examined the documents while the
post-ceremony activity diverted attention elsewhere. Determining
that the wedding had been bogus, the police took Eda O. and
Abdullah G. into custody, as the guests looked on in amazement.
The couple was charged with "preparing false documents",
"destruction of documents" and "making a false statement to a
public entity." As for Bekaroglu, he claimed to be unaware of
the false document ruse. The Uskudar Municipality, within
whose borders the wedding took place, revealed that the official
who conducted the marriage was in no way associated with
the municipality.
Uskudar district of Istanbul