turkce
links to original Turkish article
(Hurriyet Newspaper, 28 March 2015)
//Correction: in our TNT report of a couple of days ago, about
Russians stealing historic treasures from Trabzon during their
WWI occupation (1916-1918) of the city, "497 hand-written
Korans" were mentioned among the looted items. Upon further
analysis, TNT suggests that the actual meaning is "a hand-written
Koran from (the year) 497" (1081 A.D.) - probably the book
pictured in the report. The responsible TNT
staff writer has
been taken to the woodshed and docked a
week's pay.//
=================================================
Not too shabby for 100 million Euros...
Turkey's most expensive home, the Erbilginler Yalisi, has
been sold. The yali (waterside mansion), located in Yenikoy-
Sariyer, Istanbul, on the shores of the Bosphorus, was sold
for 100 million Euros and its new owner is the famous Qatari
businessman Abdulhadi Mana Ash Al-Hajri, the father of the
wife of Qatari Emir Shaikh Temim bin Hamad Al Sani.
The previous owner, Sani Mufit Erbilgin of ERG Construction,
refused to comment but company officials confirmed the sale.
The first owner of the Sehzade Burhanettin Efendi Yalisi,
which was built in the 1880's, was the famous moneychanger
Varki Vartaks. When Vartaks died in 1887, Ahmet Munir Pasa,
an Ottoman government minister, bought it. In 1911 it was
purchased for Sehzade (Prince) Burhanettin by his father
Sultan Abdulhamit the Second. The Prince's divorced wife,
Aliye Hanim, lived there for another 10 years.
When the Ottomans left Istanbul (upon the founding of the
Turkish Republic), the yali passed to Misirli Ahmet Ihsan Bey
in 1923. For a time it was known as 'Misirlilar Yalisi' and it
was left to Ahmet Ihsan's children as an inheritance in 1946.
The Erbilginler family purchased the yali in 1985.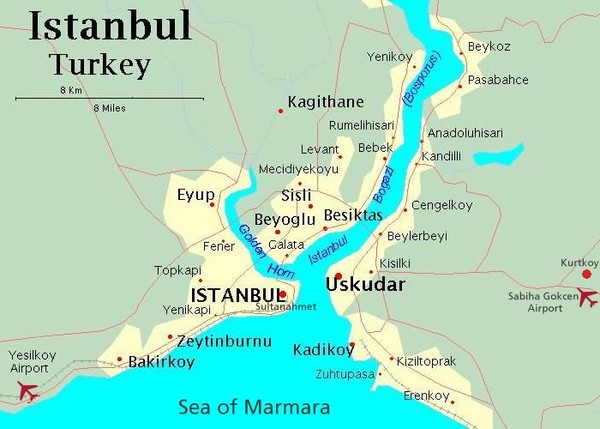 The yali is located at Yenikoy, up the Bosphorus a bit.