türkçe
links to original Turkish article
(Sözcü Newspaper, 7 January 2016)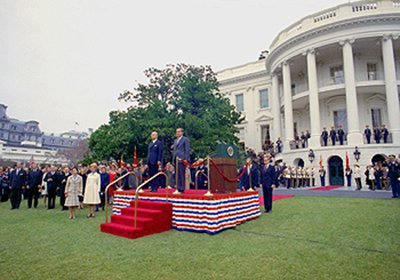 Anyone who could have predicted backlash from this picture
deserves a gold star. Everyone is sooo sensitive these days...
The U.S. Embassy in Ankara yesterday posted an item on its
Twitter account that has stirred up quite a controversy. The post
included a photograph of then-Prime Minister Nihat Erim meeting
at the White House with President Richard Nixon in March 1971.
Nihat Erim had become Prime Minister as the result of a military
coup in Turkey in 1971 and was assassinated in 1980. Some observers
of the Embassy's post opined that in light of Erim's post-coup role and
his assassination, the post was a clear threat to Turkey's present
government. Additionally, current rumblings about the possible denial
by Turkey of U.S. use of Incirlik Air Base in Adana because of a
perceived lack of U.S. air support to Turkish forces in Syria, increased
the negative response to the Embassy's post.
When asked about the controversy, Prime Minister Binali Yıldırım
opined that "what is he (current U.S. Ambassador John Bass) thinking
as he gets ready to leave? Someone should ask him. I don't get it.
He's done something quite silly."
As for the Embassy, a spokesman told Al Jazeera that "since last
December the U.S. Embassy has been sharing posts on social media
with the hashtag 'tbt fotoğraflarla %TürkAmerikanDostluğu' (Turkish-
American Friendship). There is no intention other than friendship
associated with these posts."
Did he still have his wallet after this encounter? (
claims
of 'I am not a crook!' notwithstanding.)
---------------------------------------------------------------------------------
türkçe
links to original Turkish article
(Sözcü Newspaper, 7 January 2016)
In your face.
Whatever happened to subliminal brain-washing?
The wording on a banner hung at the Commerce Chamber Grammar
School in Ümraniye, Istanbul, has been changed from "Victory is
Islam's" to "Victory is Turkey's". The banner originally read: "Do
What You Can but You Won't Hinder the Rise of the Turkish Nation.
Do What You Will, Victory is Islam's."
CHP Parliamentarian Onursal Adigüzel objected to the wording
and he directed his complaint to Education Minister İsmet Yılmaz
in Parliament. In response, the wording was changed. Adıgüzel
asserted that the reference to Islam in the banner was contrary to
secular education and evinced a discriminating tone toward non-
Moslems students and citizens.
One word CAN make a difference.