türkçe
links to original Turkish article
(HaberTürk Newspaper, 18 January 2017)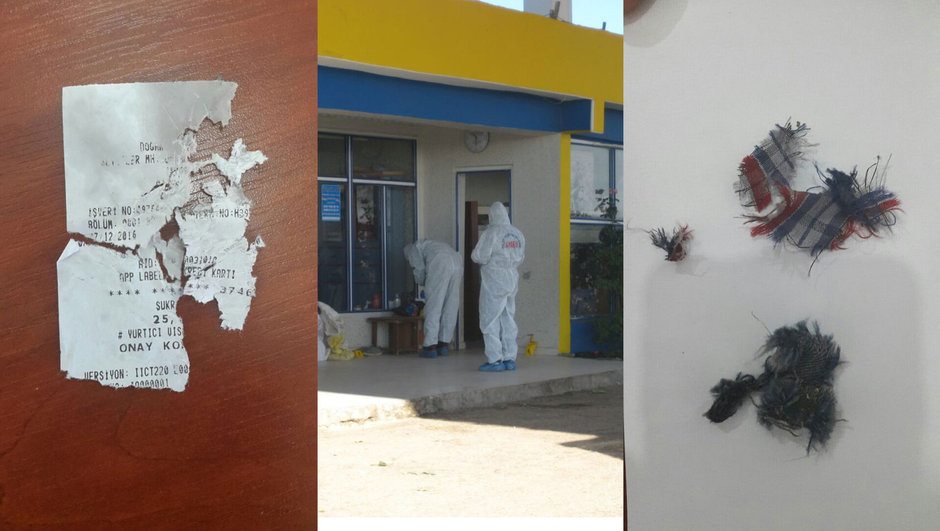 Eat your heart out CSI.
The suspect in a murder committed in İdil district of Şırnak
province was captured while trying to flee through the Sarp
border crossing at the Georgia frontier 40 days after the incident.
On 7 December 2016 an individual came to a gas station in
Tepecik village in İdil asking to have his tank filled. The
attendant mistakenly filled the tank with the wrong fuel causing
the vehicle to break down. The car owner demanded that the
gas station pay for the related repairs, prompting an argument.
As a result, the car owner shot and killed attendant Fırat Oktan
(18) with a hunting rifle and fled.
The Gendarmerie began to investigate and found a shot-up
credit card receipt, part of a blue jeans pant and a mangled 5 TL
note. Putting the pieces of the receipt together, the Gendarmerie
identified the originator as "D. Market", which they learned is
located in Midyat district of Mardin province.
Fugitive had Georgia on his mind.
The team went to the market in Midyat and, having identified
the name of Ş.M. on the receipt, (somehow) determined that the
vehicle involved in the indicent at the gas station in İdil belonged
to a woman named İ. İ. and that the attacker was her son A.İ.
When the Gendarmerie (somehow) found out that A.İ. had had
a fake passport prepared border posts were alerted. On 14 January
the suspect was apprehended at the Sarp border crossing at Hopa,
in Artvin province on the border with Georgia, while trying to
leave the country with a fake passport in the name of Y.İ.
İdil/Şırnak is near Mardin in the south. Sarp border crossing is
in Hopa district on the border with Georgia.