türkçe
links to original Turkish article
(HaberTürk Newspaper, 17 January 2017)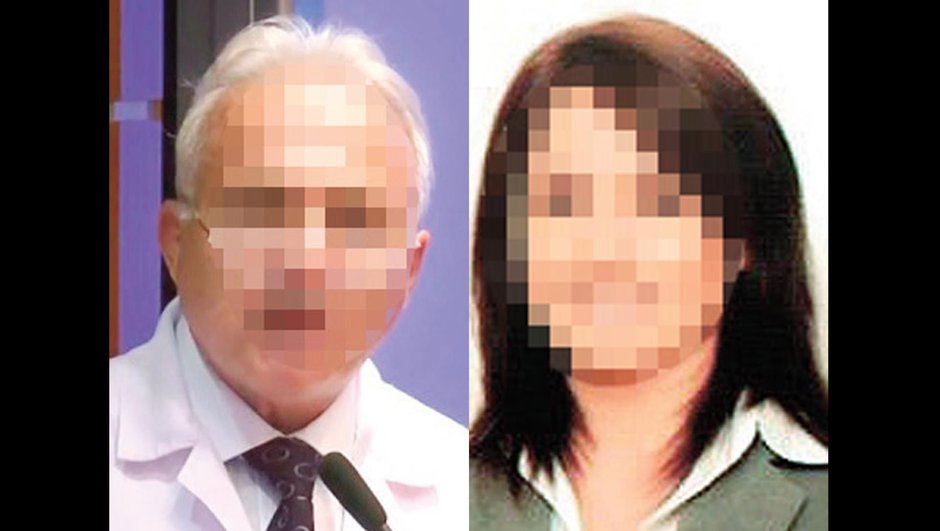 Among those rare individuals who can blurr their faces at will.
Gynaecologist Prof. Dr. B.E. (64), assigned to a hospital in
Istanbul, met patient N.M. (39) in 2001 and they began a
friendship. In 2013, N.M. divorced her husband and the relationship
between she and B.E. accelerated.
On 24 September 2013, the two had dinner and drinks at B.E.'s
house. When B.E. stretched out on the couch next to N.M. he began
to get fresh with N.W., who protested "don't!" and tried to leave.
B.E. forceably prevented N.M.'s departure and locked the door,
prompting N.M. to run to the window and scream for help.
B.E. covered N.M.'s mouth with his hand to stifle her screams but
she bit two of his fingers (!), cutting off the thumb. N.M. then
squeezed B.E.'s testicles to free herself from his grip and ran to the
door screaming for help from neighbors, who came and helped B.E.
find his thumb.
Police artist's rendering of B.E.'s tragic loss of digit.
The public prosecutor opened cases against both B.E., for sexual
assault, and N.M., for intentional wounding, asking for jail sentences of
22 and 6 years, respectively. The prosecutor, though, requested that
N.M.'s crime be considered within the scope of "self-defense".
In his statement to police B.E. defended himself as follows: "She came
to my house with 'zeytinyağlı dolma' (a home-cooked meal) and we
talked about her problems with her ex-husband. When I said she had
made mistakes vis-a-vis her ex and his family, she said 'I'm leaving!'.
She had come from Tuzla, which is far away, so I asked her not to
leave. She hurled insults at me, ran to the window and began screaming
'someone's trying to kill me!' That's when I realized I was face to face
with the behavior of a psychopathic woman. In order to avoid a scandal
among my neighbors I covered her mouth."
Tuzla really is pretty far away from downtown Istanbul.