türkçe
links to original Turkish article
(Sözcü Newspaper, 4 January 2017)
Turan A. just after drinking a quart of Nazilli water.
In Nazilli district of Aydın province, baker Turan A. (51) was
abandoned by his wife of ten years, Sultan A. (49). As she left,
Sultan hanım took money to care for their children but Turan
bey went to the police station to file a related complaint about his
wife.
Sultan's lover applied threats and pressure against Turan to get
him to withdraw his complaint. Then Sultan and her lover made
a plan to kill Turan. The lover followed Turan as he left his
house for his shop in Güzelköy and at a bus stop put a knife to
Turan's throat, saying "withdraw your complaint or I'll kill you!"
Sultan A. just before drinking a quart of Nazilli water.
In the ensuing struggle, Turan was stabbed in both his legs and,
as the lovers fled, Turan was taken to a hospital where he
miraculously recovered and declared that "what they did to me is
dishonor! How could the woman who was mother to my children
betray me in this way! May they both rot in hell! I trust in our
justice system (!) and the court will do the right thing." Police
are searching for the escaped lovers.
Nazilli district is in the northeast of Aydın province.
------------------------------------------------------------------------------
türkçe
links to original Turkish article
(Sözcü Newspaper, 4 January 2017)
In Nazilli district of Aydın province, a police vechicle crashed
into a tanker truck and two policemen died. The incident occurred
last evening when police on patrol were informed that a girl had
been abducted by unknown persons in a car with plate number
20 PH 196.
Was the tanker truck hauling Nazilli water?
The police car, driven by Hasan Özdemir sighted the suspect
vehicle, ordered it to stop and then gave chase. During the chase
the police car crashed into a tanker truck driven by Haşim Karatay.
In the collision both Özdemir and his partner Yener Arslan were
seriously injured and both died at the hospital.
Tanker truck driver Karatay was taken into custody. Police shot
out the tires of the suspects' car on 1324 street and captured
three individuals.
---------------------------------------------------------------------------------
//ed. note: lest we forget another recent Nazilli episode...//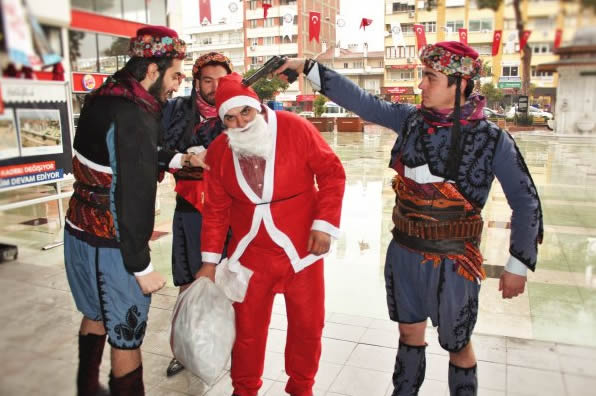 nazilli
for a Podunk, there's a lot of stuff going on!