türkçe
links to original Turkish article
(HaberTürk Newspaper, 14 June 2017)
Mehmet and his last known location...maybe.
A search in underway for a 5 year-old boy who went missing in
mysterious circumstances in Dikili, Izmir. Police and rescuers
have had a dog smell a half-eaten banana they think the boy, Mehmet
Tekeoğlu, ate in hopes of picking up his scent in among the reeds along
the Dikili shore.
Policeman Tarkan Tekeoğlu, who lives in Kayseri, took his son Mehmet
to Dikili and there, in Bahçeliköy village, Tarkan parked his car and
went in for a swim while Mehmet slept in the car. However, when Tarkan
returned from swimming Mehmet was missing so a search was mounted.
Police looked at two surveillance videos of Tarkan at a gas station in
Çanakkale and at the entrance to Dikili - in neither video is Mehmet
visible in the car. Tarkan claimed that while getting gas he left his son
with a relative and that during the trip from Kayseri the boy sat in the
back seat all the time.
Mehmet's mother in Kayseri has still not yet been located by police.
Also, Tarkan did not take any extra clothes along for Mehmet for the
trip to Dikili, about 1,000 kilometers from Kayseri. The Gendarmerie
was able to reach Mehmet's older brother, 17 years-old, who confirmed
that Tarkan had taken Mehmet to Dikili.
---------------------------------------------------------------------------------
türkçe
links to original Turkish article
(Sözcü Newspaper, 14 June 2017)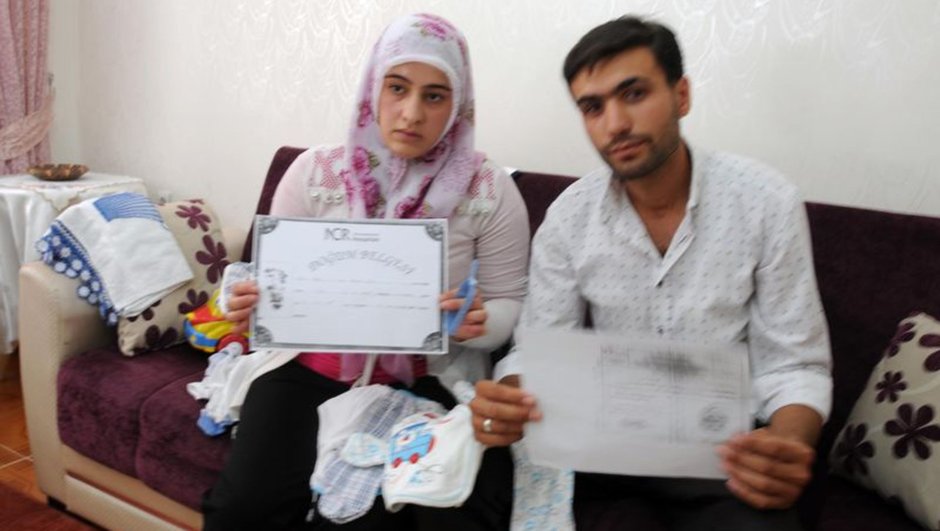 You sort of get the feeling that they would have preferred a boy.
Ebru and Harun Dudu of Gaziantep went to a private hospital
on 3 June for the birth of their second child. The baby was delivered
naturally but weighed only 2 kilograms, with a length of 49 centimeters,
so the child was put into intensive care.
In any event, a hospital report was given to Ebru hanım declaring that
she had brought a baby boy into the world. With the report, father Harun
went to the Population Registry Bureau and had an ID registered for the
child with the name 'Miraç'.
However, four days later Ebru hanım was summoned to the hospital
to see and breast feed the baby. As she changed the diaper Ebru hanım
was shocked to see that her child was a girl. (!) The Dudu's have filed
a lawsuit against the hospital and an investigation has been initiated by
the provincial health directorate.
Ebru hanım lamented that "I went to state hospitals beforehand and they
told me the baby would be a boy. When they said there was a danger to
the child's life we decided to have the baby in a private hospital. The
doctors now tell me that my baby is a girl. We've applied to the prosecutor
to have a DNA test done. I want to clear this up right away." Hospital
chief İdris Yıldırım asserted that the personnel who filled out the initial
report had made a mistake.
Gaziantep province