türkçe
links to original Turkish article
(HaberTürk Newspaper, 5 June 2017)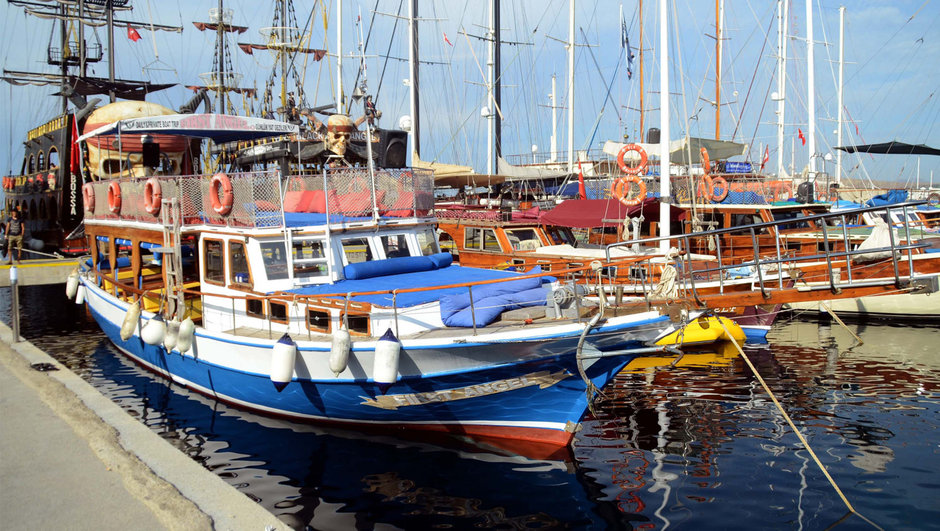 Tour boat in calm seas prior to the post-disco tumult.
In Bodrum, Muğla province, the night before last, a tour boat was
bringing back revellers to their hotel from a disco when the boat
broke down. 38 persons - 16 Iranians and 22 Turks - were on
board the 10-meter tour boat when its motor failed in the waters of
Haremtan bay, near Bodrum city.
The captain requested aid from the Turkish Coast Guard, which
in turn asked Enver Kantarmış of the Halikarnas Tour Boat Cooperative
to send a boat to rescue the stranded passengers. Kantarmış sent the
boat 'First Angel' to the scene, manned by his brother Veli Kantarmış
and boatman Recep Olgun.
Coast Guard (orange shirts) to the rescue!
The passengers were taken on board the 'First Angel' but some of the
Turks were upset that it had taken so long for aid to reach them. These
Turks began jostling and beating Kantarmış and Olgun, ultimately locking
them in a cabin. The 'pirates', some of whom were boatmen themselves,
headed the boat toward the Greek island of Kos. (!)
Veli Kantarmış was able to call his older brother and related the
situation. Enver got in his high-speed motor boat and raced to the area,
alerting the Coast Guard en route. Intercepting the commandeered
'First Angel', the Coast Guard warned the boat to stop, but in vain. The
Coast Guard then fired warning shots, boarded the boat and rescued
Veli and Olgun. 14 of the 'pirates' were taken into custody.