türkçe
links to original Turkish article
(HaberTürk Newspaper, 6 April 2018)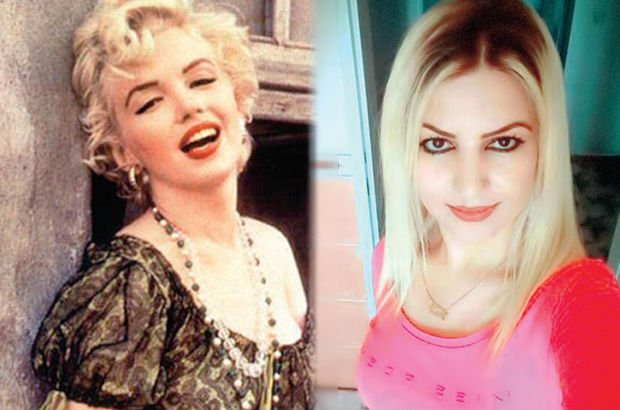 The resemblance is uncanny, which begs the (interview)
question...
In Bismil district of Diyarbakır province, interviews were held last
Friday for 160 contract workers hoping to get on the regular municipal
payroll. A 5-person commission, headed by Bismil District Chief and
Mayor Turgay Gülenç asked one question of all the candidates. For Gülcen
Öztürk the question concerned assassinated U.S. President John Kennedy,
his lover Marilyn Monroe and his "betrayed wife" (!).
Important personalities to know about for cultural affairs in Bismil.
Öztürk, who began working as a contractor in the municipal culture
directorate 11 months ago, related her interview as follows: "they asked
me 'where is John Kennedy Airport'. As I was thinking of an answer,
the District Chief added 'He had a lover with blonde, wavy hair like you.'
When I said I didn't know he offered the answer himself: 'Marilyn Monroe'.
Then he asked 'when Kennedy's wife learned that he had cheated on her
what was her reaction?' I was quite surprised at this question and did not
give an answer. As a result, my employment was terminated. Although I
was working in the culture section, they assigned me to the parks, gardens
and cleaning unit and I did a good job everywhere but while waiting to
be taken on the regular payroll they have now fired me. I filed a complaint."
We reached District Chief Gülenç and he stated the following: "We asked
her 'who is John Kennedy? Where is John Kennedy Airport?' She answered
that the airport is in Istanbul so she didn't pass the interview. How can we
have a person who says that John Kennedy Airport is in Istanbul, work in
the culture directorate? We never asked her anything about his illicit
lover Marilyn Monroe. Since she failed the interview she's now seeking
revenge with slander. We will take the necessary legal action. We hired
her in the first place on the recommendation of a friend. She didn't do
anything except cause trouble . She has problems, she's irritable. In
her view we asked a difficult question in the interview but we think
otherwise."
Other candidates were asked questions like "Where is İbrahim Tatlıses
(pop star) from?", "Who makes dinner?", "Who uses a train?", "Who
is in charge when the President is away?", "How many districts does
Diyarbakır have?", "What is the population of Bismil and how many
villages are there?" and "What is the number of Diyarbakır license
plates?".
Bismil district is in southeastern Diyarbakır province.