türkçe
links to original Turkish article
(HaberTürk Newspaper, 9 January 2018)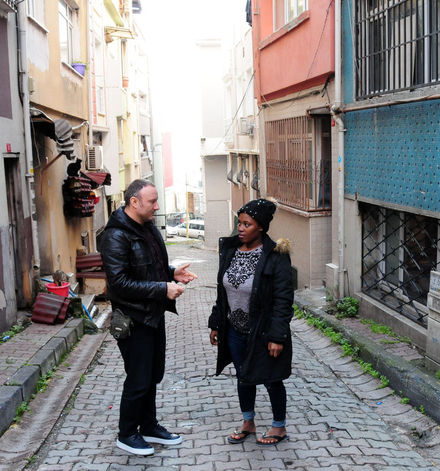 She's not in Conakry anymore...
Fatoumata Zounigi (25), from the west African country Guinea, wanted
to have a new life in Europe so she went to Iran, via Malaysia (!), and
then tried to enter Turkey illegally with her 3-year-old son Mohammed.
Zounigi, who now lives in Istanbul with her cousins, told HaberTürk her
story.
In 2016 the young woman went with her child and the baby's father to
Malaysia from Guinea. They all intended to go to Europe but the man
had a change of heart, left them and returned to Guinea. Zounigi called
her family about her boyfriend's return to Guinea but she was told that
he had died.
Alone but still determined to get to Europe, Zounigi and her son flew from
Malaysia to Tehran, where she had her share of difficulties. Nevertheless,
Zounigi pressed on to a town near the Iranian-Turkish border and explained
what happened as follows:
Conakry, Guinea, is at lower left.
"As we were walking toward the border a soldier or a policeman - I'm not
sure which - confronted us and beat us, screaming "Get out of Iran!" He
threw me in the river, with Mohammed on my back. We continued on in
our wet clothes but my dreams of going to Europe drowned in that water.
I changed my route in order to go to my cousin in Istanbul and we walked
for two or three days. My son was continually crying but became silent
all of a sudden. We were hungry and anxious."
"I saw the Turkish border patrol and, telling them that "my baby isn't
talking, cannot talk!", I asked them for help. They called an ambulance
and took us to a hospital but after examining Mohammed he was pronounced
dead. The Turkish authorities buried my son, took a picture of his grave and
gave it to me. They also gave me a temporary ID card and I stayed in a
shelter they arranged for me for a while. Now I'm with my cousin in
Istanbul."
Zounigi flew the other way, from Malaysia to Iran, after reaching
Malaysia from Guinea.