türkçe
links to original Turkish article
(HaberTürk Newspaper, 8 January 2018)
There went the neighborhood...
In Caddebostan, Kadıköy, one of Istanbul's most fashionable areas,
gunfire shook İskele Street, also known as Bar Street, the night before
last. After their meal, Murat Oğuz Orhan (34) and Emre Adaş (29),
got into an argument with the restaurant's valet because their car was
late in coming.
As the argument turned into a fight, one of the valets pulled out a
gun, shot the two customers, hopped into a taxi and fled the scene.
Orhan died there and Adaş succumbed to his wounds at a hospital.
A shopkeeper nearby said "I heard screaming and when I went outside
two people were lying on the ground, as customers in the other
restaurants ducked under their tables. There was a similar murder 7
years ago in the same place. In fact, one of those workers came out
from the restaurant."
The residents of İskele Street, where there are more than 10 restaurants,
are very tense. One of them said that the valets work for 6-7 restaurants
but he was critical of valets who show up each day, saying "there are
fights here every night. We see battles among customers with bats.
After a certain hour, the street's atmosphere changes. We're worried.
There are 2-3 regular valets but there are also those who come once
in a while whom we don't know and we wonder who they work for."
The owners of the other restaurants, which serve mostly fish, were
noticeably silent after the incident, with one of them allowing that
"this has nothing to do with us." In 2011 there was a clash on İskele
Street between old and new valets in which Sedat Peker (a famous
mafia boss)'s man Hasan Akbaş (38) and another of his men, Ali
Şahin Gürman (34), were killed. Two others were wounded in the
incident, in which 19 people were taken into custody.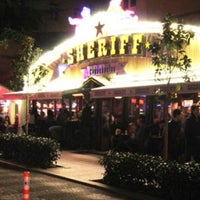 Sheriff not on duty that night.